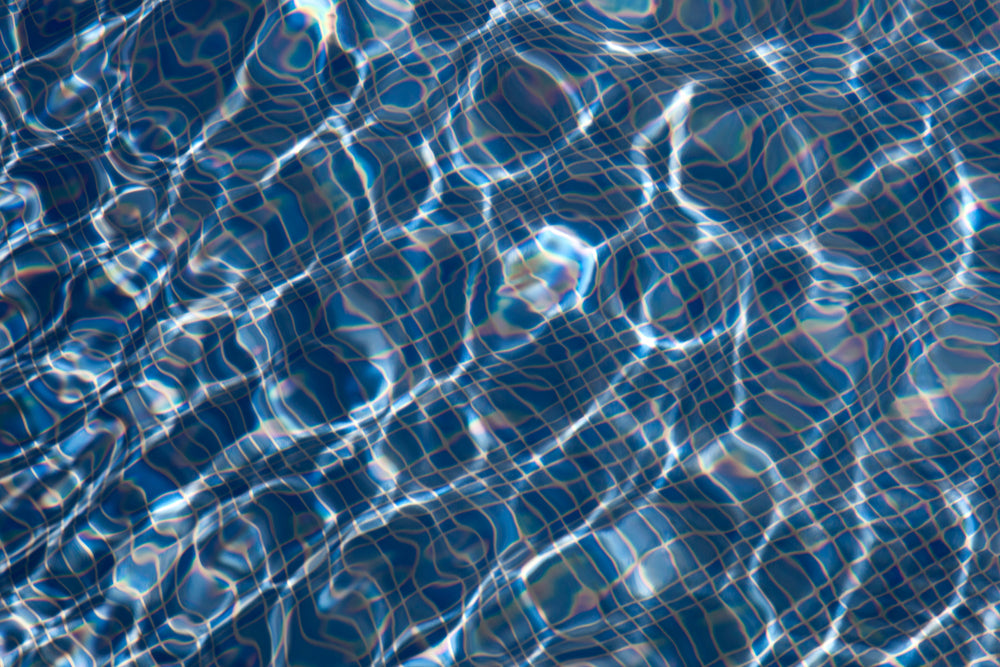 How To Choose Pool Tile Color for Your Swimming Pool Like a Pro
Swimming pool tile colors are one of the few things in life that you really can't go back on. While the decision might seem simple, your pool tile should last for years. It's both a headache and a high expense to change if you end up not liking the result.
In this article, we'll discuss the importance of choosing pool tile color with care, things to consider when doing so, and how you can choose the best swimming pool tile colors.
Why Does Swimming Pool Tile Color Matter? 
For some people, pool colors and tiles are a meaningless decision – something to be checked off the renovation list and forgotten about. But in reality, it's key to creating the pool of your dreams. 
The right color will set the tone for the entire pool season, complementing your landscaping and providing an inviting atmosphere.
Choosing the wrong tile color or pattern can have the opposite effect, making your pool look dull and drab – even to the point where you don't want to go in! It's important to take your time when selecting tiles, as what pool tile you choose will be around for years to come.
Some people might consider painting pool tiles as a cheap alternative to buying new ones. Unfortunately, this is rarely an option with swimming pools. Most products, like glass tiles, can't be painted over. Trying to do so will have disastrous results – in most cases the paint will peel off and need to be removed.
It's best to find tiles that you love and that work with the overall design of your pool. However long it takes or whatever the cost per square foot of your pool, ensuring it's perfect will save you stress and money in the long run.
Factors to Consider When Choosing Swimming Pool Tile Color
When picking tile color for your pool, there are several factors to consider:
Patterns
Swimming pool tiles come in a variety of patterns, from classic squares and rectangles to geometric shapes and fish scale designs. Consider how the pattern of your tiles will look with the overall design of your landscape and pool.
Finish
Swimming pool tiles come in both glossy and matte finishes. Glossy tiles will reflect more light and make your pool look brighter, while matte tiles will help create a more muted and subtle look.
Material
The material of your tiles will impact the color of the water and how it looks in your pool.  Glass pool tile designs reflect light well and are great for saltwater pools. Porcelain tiles help to soften colors and work with several different water types.
Atmosphere 
It's also important to think about how the tile you select will work with other tiles and materials in your pool and the surrounding area. Think of your tile selection as part of the entire pool design, and make sure everything works together to create a unified look.
How to Choose Pool Tile Color
If you're in need of some guidance when it comes to choosing pool tile color, here are a few tips:
1. Consider Your Environment
Take into account the colors and tones of your home, landscape, and other surrounding features.
For example, if your pool is surrounded by lush greenery, try to find tiles that will blend in and complement it. Earthy brown and green pool tile mix well when surrounded by nature. Similarly, mosaic pool tile works great in already-colorful environments or an area where you'd like to showcase several tones.
Sun exposure is also worth thinking about – if your space gets a lot of sunlight, it's important to choose pool tiles made from materials that can withstand it long-term, like slate or stone.
Don't forget decor, either! In addition to pool-side environments, you should select your tiles based on the existing designs around them. For example, pool tiles made from materials like stone and sandstone add a unique feel, but may not work well if your house is very "beachy" looking. In this case, pool tiles made from materials like slate or limestone may be a better choice.
2. Know What You're Going For
Just like how you should be considerate of the environment around your pool, you should also take into account the type of atmosphere you want to create.
Do you want an elegant and luxurious feel? Modern pool tile colors like black and gray are great options. 
What about something exotic and bold? Try opting for brighter options like aqua pool tile, blue pool tile and green pool tile.
3. Know How Patterns Can Affect Color
Patterns, like mosaic tiles, can play a huge role in how the color of your tiles looks in your pool. A large-scale pattern will make any color look bold and vivid, while small-scale patterns can help to soften the colors. 
Remember: The best tile colors for swimming pools don't overpower the pool. They enhance it. It's all about striking a balance. Use patterns and spacing to your advantage in doing so!
4. Ensure Your Choice Is Easy to Clean
Don't forget to make sure you can easily clean your pool tile. Swimming pool tiles will get wet and dirty, so you want to make sure that the options you select are simple to scrub and keep presentable. Look for tiles that are non-porous, as this will help minimize the amount of grime that accumulates on your waterline tiles and better maintain the color over time. 
5.  Mix and Match
What if there was more than one answer to the question of best color for swimming pool tiles? Mixing and matching is a great way to create a unique look that stands out. Just make sure that all colors and patterns you choose work together to create a unified look.
If you want to feature multiple tones without going as far as mixing and matching, iridescent pool tile can create a perfect balance. Iridescent glass tiles in particular reflect natural light in different shades of blues and greens, making them a great neutral that blends in with the overall design of your pool. 
6. Think About Shape
The best pool tile colors are those that work with the shape of your pool. Try to select a tile color that will highlight and accentuate the walls and curves of your pool.
For example, if you have a curved wall, dark pool tile can help to emphasize the shape and create definition. Conversely, if you want to soften the look of a sharp corner, light-colored porcelain pool tile can help to create a more unified effect.
Certain tile shapes are also better suited for some pools than others. Kidney or L-shaped designs, for example, work well with strip-style tiles that can line their contours.
7. Don't Be Afraid to Ask for Help
At the end of the day, there's no "best color" for pool tile. Ultimately, it all comes down to personal preference. So don't be afraid to ask for help — whether it's from a pool tile expert or somebody with a good eye for design — to ensure your pool tile is the exact color you want. Remember, you can always order samples to pass around and compare!
Buy Swimming Pool Tiles in Every Color
At Oasis Tile, we understand the importance of picking out the best swimming pool tile color for your yard. We have a wide array of swimming pool tile colors, materials, mosaics, and patterns to choose from, so no matter what look you're going for, we can help make it happen.