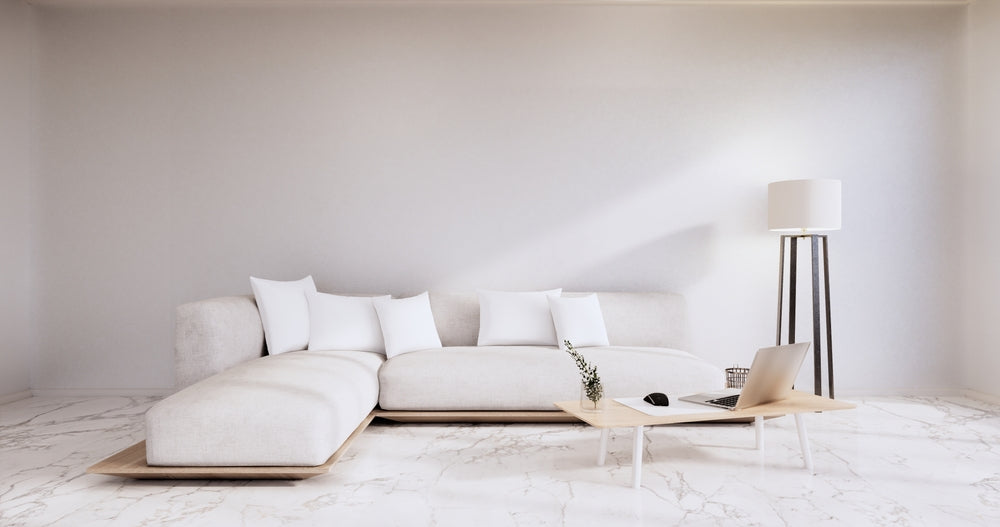 The Top 10 Tile Flooring Trends for 2023
When it comes to flooring trends, it's no secret that tile flooring is one of the most popular flooring options around – and for good reason!
Tile flooring is a great option that offers style, durability, and low-maintenance properties. With so many stunning floor tile design ideas available in 2023, you're sure to find the perfect trendy floor tile for living room, bedrooms, bathrooms – any room, really!
Without further ado, here are the top 10 tile flooring trends for 2023!
Tile Flooring Trends to Inspire You
If you're looking for a guide to buying tile flooring and sprucing up your home with a new tile trend, you're in the right place. Here are our top floor tile designs for 2023!
1. Bring it Home with Stone 
When it comes to home decor, nothing is as timeless and chic as stone floor tiles. 
Whether you are looking for an understated aesthetic or something a bit more eye-catching, there are a wide variety of stone tiles to choose from that will perfectly match your taste and style. 
Stone floor tile is not only beautiful, but these tiles are extremely durable and offer a contemporary look that is perfect for residential spaces. 
Better yet, opting for stone look or marble look modern floor tiles will give you the same desired look for a fraction of the price!
Shop our best-selling Gentle Dwelling stone-look tile in Huckleberry Grove Blue, Algonquin Prime Grey, or Mesa Court Beige.
2. Vinyl, aka Ol' Reliable 
Despite being one of the oldest flooring materials, vinyl tile has been really popular in 2022, and will continue on as a trendy option for modern interiors.
Vinyl floor tiles are durable and easy to clean, so they are an ideal choice for high-traffic areas. Vinyl tiles are also great flooring for pets and houses with kids. In addition, they come in a wide range of colors and patterns, allowing you to create unique looks that really stand out from more traditional flooring materials. 
Bonus! – Vinyl floor tile is affordable and easy to install, making it a cost-effective way to update any space.
3. Perfect in Porcelain
Porcelain floor tiles will remain a popular choice thanks to their durability and low-maintenance properties. Porcelain is distant cousins with ceramic floor tiles, but there are a few key differences. 
When it comes to ceramic tile vs porcelain tile, porcelain is a great trendy flooring option – and ceramic is not. Both tile types are created from a clay mixture, but porcelain tiles are made from more refined clays and kilned at higher temperatures, which results in classic floor tiles that are more dense and more durable than ceramic. 
These tiles are also available in a wide range of styles and colors, allowing you to easily find the perfect option for your home.
Shop all porcelain floor tiles.
4. Stand Out with Mosaics
If you're dreaming of tile flooring ideas that are slightly outside the box, go mosaic! 
Whether you choose a glossy glass tile or matte porcelain mosaic design, these tiles are sure to turn heads.  
Mosaic floor tile designs are a great way to include pattern and interest to your tile flooring. These trendy floor tiles add texture and sophistication to any space, making them an excellent choice for those looking to create an artistic, luxurious look.
Choose from our wide range of mosaic floor tiles including Florencial Capanelle Dawn Brown and Florencial II Prato Brown.
5. O-M-Geo
There is something undeniably elegant and eye-catching about geometric floor tiles. These tiles seem to always exude a level of sophistication that screams "modern design" at every turn. 
Perhaps the best thing about geometric floor tiles is that they can be adapted to suit any style or aesthetic. From clean minimalism that was ultra popular in 2022 to bohemian maximalism and more, the options are endless. 
Whether you're looking to make a statement with larger tiles in bold colors and patterns or simply infuse your space with subtle hints of style, there's no better way to get the job done than with some beautifully patterned geometric floor tiles. 
Check out our favorite Princeton Glaze hexagon designs including Victorian Pewter Grey and Linen Fresh.  
6. Shoulda WOOD-a Coulda 
If you've ever asked yourself, "Is wood-look tile too trendy?", we've got your answer. 
NOPE! 
Can't choose between tile or hardwood flooring? Wood-look floor tiles were such a sought-after choice this year, and maybe they're right for you! 
On one hand, these tiles recreate the look and feel of real wood with stunning realism. They feature all of the character, beauty, and warmth of real wood, while bringing the added benefits of easy maintenance and durability. 
These tiles are also extremely versatile, and can adapt easily to any décor or style. So, whether you want a country-rustic look or something more elegant and traditional, wood look floor tiles can deliver exactly what you're looking for - for a lot cheaper than real wood could! 
Shop our best-selling wood look floor tiles from Ala Timber like Pigeon Grey, Evening Shadow, and Thunder Sky.
7. Hello, Matte
Matte floor tiles have become an extremely popular choice over the past few years. This is due in large part to their sleek and stylish appearance, which has made them a favorite among interior designers and home decor enthusiasts. 
These floor tiles are often praised for their soft, understated appearance, which can help to give any room a calm and tranquil atmosphere.
Whether you're hiring a professional designer or installing floor tiles DIY style, adding matte tiles to your space is sure to elevate its appeal and bring some serious style!
8. It's a Pattern
Is patterned tile too trendy?
We say no way!
Whether you prefer bold patterns or more subdued motifs, patterned tiles add a unique sense of visual interest and style to any room. 
Perhaps best of all, when it comes time to install new tiles or replace old ones, the process tends to be much less complicated with patterned floor tiles than it is with other materials like wood or stone – yippee! 
Shop our stunning patterned floor tiles like Greek Key Black White and Florencial Torciano Maze Black.
9. Class with Glass
Glass tile is beyond beautiful. These tiles are also incredibly versatile, meaning that you can trust in them looking great in a wide range of settings. 
Sleek and reflective, glass tiles can add interest and elegance to any room. Their transparent and glossy surfaces also allow natural light to flow through and illuminate space. 
Most importantly, we can't forget about how easy glass tile is to clean! Spilled some red wine? No prob! Simply wipe it up with a damp cloth. 
Important note: Given the nature and delicacy of glass, we recommend only using glass floor tile in low-traffic areas, like a shower floor, to avoid potential damages. 
Shop our complete range of glass tiles.
10. Bold and Bright
Yellow, blues, and greens - oh my!
Cool jewel-tones and subdued neutrals were super desired in 2022, but it appears that 2023 is moving towards hues that are bolder and brighter. 
Colorful flooring tiles are a great way to add vibrancy and life to your spaces, and they offer limitless options when it comes to selection. With biophilic elements gaining popularity in interior design, green has become the new color of energy and vitality. 
Using these tiles to create joyous, colorful creations can evoke modern flair and add a touch of wow factor to any room.
Find your perfect green with options like Calm Eco and Calm Camouflage.
Trendy Floor Tiles Await You!
As you can see, there are countless options for tile flooring in 2023. 
From classic floor tile materials like vinyl and porcelain, to bolder choices like geometric, bright colors, and marble flooring tiles, there's truly something for everyone! 
Whether you're interested in revamping your kitchen with a unique floor tile, need different floor tile ideas for your bathroom, or want to swap out your carpet for tile flooring, there are so many new floor tile designs to choose from!
Ready to bring your tile flooring ideas to life? Our wide selection of gorgeous, premium quality floor tiles means that we can help!
Shop our floor tiles online now.