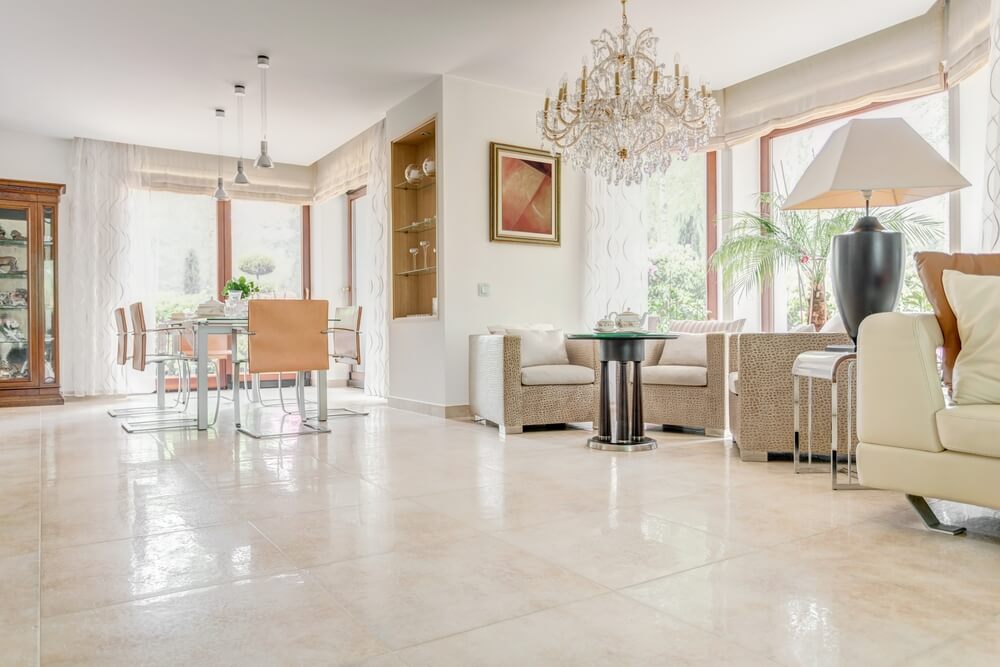 Tile vs. Hardwood Flooring: Which Is Better?
A home's floor needs to be beautiful, but also durable and crafted from premium materials if it is to last for years to come. Two of the most popular flooring options among homeowners are tile and hardwood floors, both preferred for different reasons.
If you are unsure whether to use tile or hardwood in your house, look no further. In this guide, we will talk about the differences between tile and hardwood flooring so you can be sure to choose the best option for your home.
Tile Flooring
Tile comes with many benefits and is preferred by homeowners because it can be applied virtually everywhere: on floors, walls and backsplash, in kitchens, bathrooms and showers, in swimming pools and outdoor spaces like backyards and patios. In fact, some home decor experts say that tile is the only material that can be used in every room a home has.
Advantages of Tile Flooring:
Tile is extremely durable and can last for years still looking brand new, especially if you choose porcelain or

ceramic tiles

.

It resists stains and spills, all while being very easy to clean and maintain.

Tile is the best flooring option for homes with pets because it doesn't trap odors and it can't be easily scratched.

It can be highly resistant to moisture so it's perfect for rooms that are exposed to water frequently, such as bathrooms and showers.

Tile can help increase the floor grip, making it a good flooring option for bathrooms, showers and swimming pools or for homeowners who have young children, pets, and elderly adults walking around.

Tile is beautiful and comes in so many types, designs, finishes and sizes that you can be sure to find the best tile for every project.

From statement kitchen floor tiles in bold blue to elegant

bathroom tiles

in soft beige tones, exotic green glass tiles for your swimming pool floor and vibrant

mosaics

, tile is available in several colors and hues making it the most versatile option for all kinds of home decor.

Tile is cheaper than hardwood, which makes it a better option for those who are on a budget. However, being cheaper doesn't mean that it isn't a quality flooring material for your home. In fact, tile is considered to be more durable than solid wood and requires less maintenance, thus it can also cost less over time.
Disadvantages of Tile Flooring:
Tile can be cold and hard on mornings when temperatures are low.

DIY floor tile installation can be tricky.

If it's not properly installed, it can chip or crack.

Tile needs to be sealed and the grout to be maintained to avoid humidity being absorbed.
Hardwood Flooring
Hardwood flooring is another popular choice, mainly chosen by homeowners because it's timeless and luxurious. However, it does come with some drawbacks. 
Advantages of Hardwood Flooring:
Solid hardwood floors are beautiful and accommodating of many home decors, making it a good choice for any style.

It can increase the value of your house so you could sell it at a higher price.

Quality hardwood floors can last for many years and can be restored with special maintenance.

It's warmer than tile, which can be better in colder climates.        
Disadvantages of Hardwood Flooring:
Although it's considered easy to clean, hardwood flooring does require special treatment, such as avoiding bleach, abrasive cleaners, excessive water etc.

Hardwood floor needs regular maintenance to continue looking nice, including sanding and refinishing, especially if it's damaged with scratches, stains or discoloration.

It can be easily scratched and stained, particularly if you have pets.

It's prone to discoloration caused by sun exposure, spills, or using the wrong floor cleaner. 

Hardwood isn't the best choice in rooms that get wet often, so it wouldn't be a great option for a bathroom or shower floor.
Using Wood-Like Tile Flooring vs Hardwood
Certain tile types, such as porcelain tiles, can be made to mimic the look of different materials, such as wood, stone or even marble, only at a lower cost and without the high maintenance they usually require. 
So, if you are after a wood floor design but don't want to deal with how easily it can be damaged, commit to regular maintenance, or simply if you don't want to pay the high price tag, then a wood-like floor tile will do the trick for you.
Shop Premium Floor Tiles At Oasis Tile
Choosing tile or hardwood for your home's floor really depends on your budget, how much maintenance you're willing to commit to, if you have pets, and your personal sense of style. Tile is considered by many the most durable and easy to maintain flooring option, while it can cost less without compromising quality. It's also available in wood-like finishes so you can still create a hardwood floor vibe if you'd like. 
Explore our wide selection of premium floor tiles, available in several designs, materials, colors, and finishes.
Shop Floor Tiles