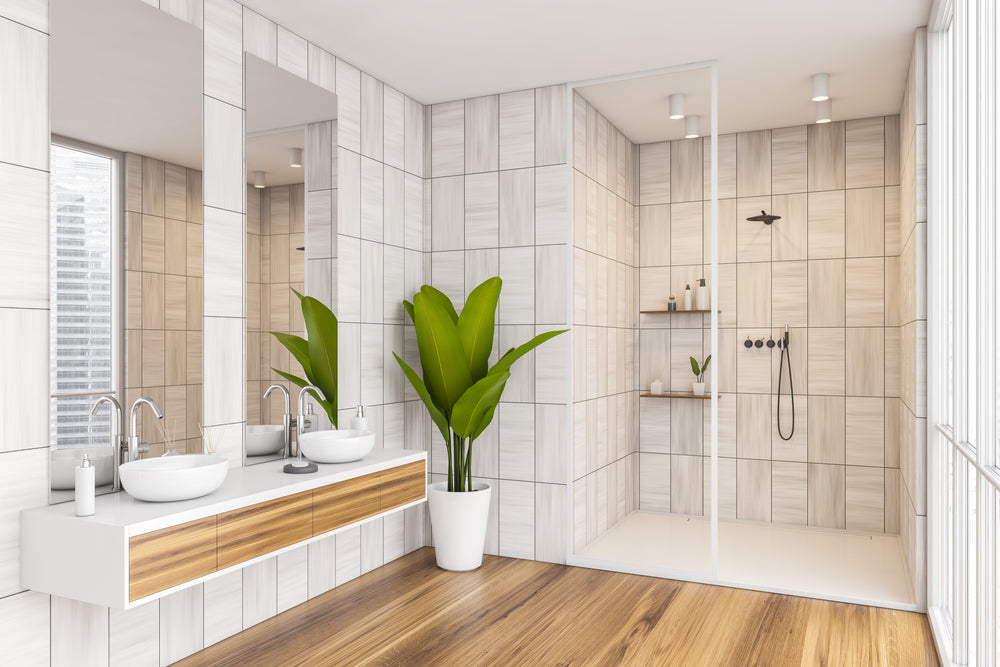 Vertical Tile Shower Ideas to Try In 2024
Tile can play an important role not only in the look of your bathroom, but also in its overall atmosphere. Vertical shower tile is becoming increasingly popular among those who want to differentiate their spaces from traditional designs. If you're tiling a bathroom backsplash this year with similar goals in mind, look no further. This article explores the very underappreciated art of vertical shower wall tiles, explaining how and why choosing to go with vertical tile for bathroom spaces like these can make a huge difference. We'll also throw in some of our favorite vertical shower tile ideas to help you get inspired for your own project in 2024!
Do Vertical Tiles Make A Bathroom Look Bigger?
In short? Yes! 
While other factors like lighting and layout can factor into how big a bathroom feels, vertical running bonds in shower tile installations go against what the eye is used to seeing. They direct attention upwards towards the ceiling, rather than outwards across floors and walls. There's less of a 'wrap-around' effect, which can make a room feel less overwhelming and more open. 
Vertical tiling also has the capacity to give a contemporary touch to showers through its natural illusion of height and grandeur. Projects that go with this relatively new take on tile design are guaranteed to look different from the average bathroom.
Vertical vs. Horizontal Tiles for Shower/Bathroom
The biggest difference you'll notice between a bathroom with vertical shower tiles and a bathroom with horizontal shower tiles is space - or at least the perception of it. 
Horizontal tiles can make a bathroom feel more closed-in, as the lines of grout and tiling create a boxy, uniform look. This goes hand in hand with the classic shower tile installation mistake of leaving too much space in between tiles.  
Vertical tiles draw the eye upwards and create a sense of airiness and height that can make a bathroom feel more spacious. Small areas like showers in particular stand to benefit from vertical tiling. Its matching flow to the water from the shower head promotes a directional and cohesive feeling that horizontal tiles won't necessarily provide. 
That said, both vertical and horizontal tiling can be used to great effect in a well-designed bathroom. Larger spaces often actually benefit more from lengthwise tile layouts, as height-oriented ones in large planes of view can come off looking cramped and out of place. Moreover, horizontal shower tiles have a very traditional look that may be ideal for the final aesthetic you're going for. 
Choosing between these two directions is ultimately a matter of preference, but make sure to consider how the tiles will alter the perception of space in your bathroom before you commit. One of the best pieces of advice we can give anyone using tile in a shower is to draw or print out some layouts on paper to see how both flows look in the greater context of your bathroom. You don't necessarily have to stick to one end of the spectrum, either - 4:6 ratio-sized tiles will usually have a less directional effect than longer ones.
What is the Best Tile Color For Vertical Shower Tiles?
With an already slightly creative layout choice like vertical tiles, most home designers opt for a safe color like white. It's clean, sleek, modern, and versatile enough to blend in well with just about any bathroom's decor. If you're yearning for something a bit different, neutral tones can work as well. Go for subdued earthy brown, beige, or cream to accent your shower from the rest of the space.
To that end, there's nothing saying you can't use vertical tiles in contrast to horizontal tiles, either. If your bathroom floor tiles run straight from the entrance, flipping things 90 degrees on the walls will mix things up and add interest. Even on the same surface; shower tiles don't have to follow the rules of the rest of the room, and in many cases look better when their direction contrasts that of peripheral walls.
Is It Better To Use Small or Large Vertical Tiles In A Small Bathroom?
While it may only seem like a matter of preference - and it is, in some areas of the house - shower tile size and shape has both practical and visual implications to keep in mind. Generally speaking, the larger individual tiles are, the better, as fewer are required to cover a shower's surface. That not only equates to less of a cleaning concern but also a more expansive look overall.
Mosaic tiles always look great, and there are definitely plenty of people who choose to design their showers in such a style. We'd just recommend avoiding close-together, grid-like arrangements in small spaces.
Six Vertical Tile Shower Ideas for 2024
With a new year ahead comes a new opportunity to make your bathroom tile look better than it ever has before. Vertical shower tile has the potential to look great in virtually any space, especially when it's applied with these tasteful design trends in mind: 
1. Embracing the Regal Look
Who says small bathrooms have to feel like a compromise? Although conventional horizontal shower backsplash ideas may leave a space looking cramped, vertical subway tile creates a sense of luxurioys height. Not only that, but royal color palettes like white and gold or silver can make a shower with vertical tile look truly majestic.
2. Pink Subway Tile
Vertical subway tile's eye-catching appeal can be bolstered with the selection of a unique color. We love light tones of pink because they serve to highlight accent spaces like showers without contrasting too much from the rest of the room. 
3. White Porcelain
White porcelain tile is a timeless bathroom trend that never ever goes out of style. Whether you're considering vertical staggered shower tile or vertical stacked shower tile, tiling a bathroom backsplash with this material is a smart move in practically every case. The sleek surface and classic color can be used as the basis for both traditional and modern designs. 
4. Going Wavy
Vertical accent tile doesn't have to follow a conventional vertical staggered shower tile format. Vertical wavy tile - or any creatively shaped wall tile - looks amazing in a modern bathroom. Whether you opt for an articulated wave tile or one with subtle curves, this type of accent tile can make the walls really pop.
5. Multicolor
One of our most rule-breaking shower backsplash ideas for 2024, multicolored vertical shower tile is a great way to add impact and vibrancy to an otherwise plain bathroom. With options ranging from black, white, blue, and green, all kinds of subway tiling can make your shower stand out in style. Just don't go overboard -  it's best to stick to just two or three bathroom tile colors at a time.
6. Green Marble
The true definition of accent tile, marble looks great just about anywhere you put it. The cascading detail within the stone gives off a sense of elegance and sophistication that never fails to amaze people. For a modern twist, go with green marbled glass tile or another unexpected touch of shine and color.
Choose Oasis for All of Your Tile Needs
The possibilities of home design are endless, especially when you're working with a material like tile. Hopefully our vertical shower tile ideas for 2024 have sparked some creative ideas and inspired you to make your own unique statement.
Whether it's a modern integration of subway tile, or a multicolor pattern that adds personality to the space, bathrooms with tile backsplash from Oasis Tile always look and last beyond expectation. Order your samples to get started today.