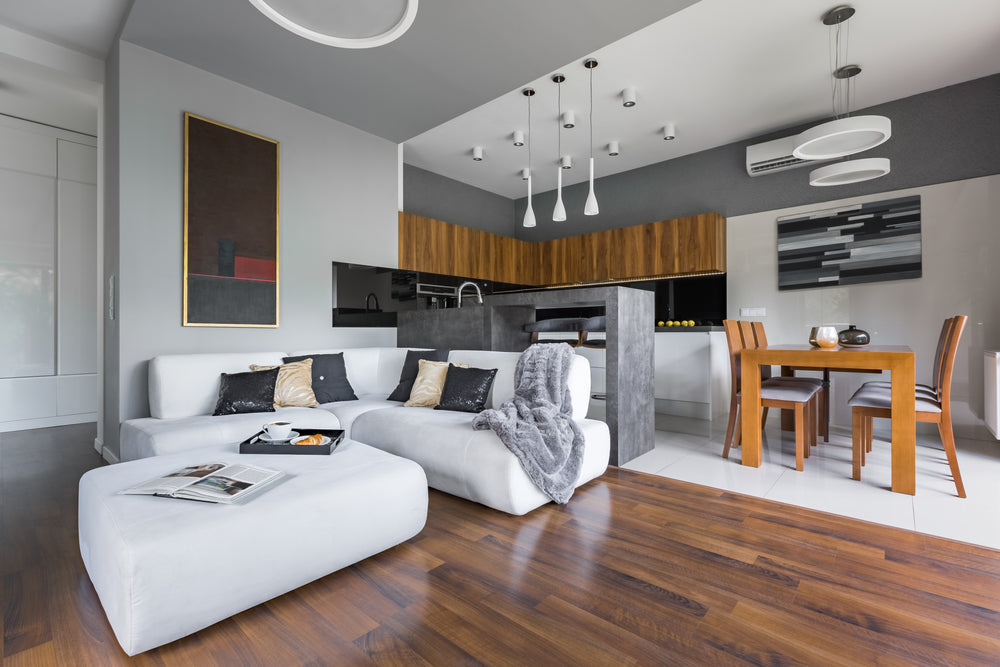 Living Room Tile Ideas for 2024
The living room is arguably the home's most social area; it's the place to be for everything from family game nights to football Sundays. It's a space that you want to get right - not just by choosing a great couch but also by designing floors and walls that are comfortable, inviting, and stylish. 
If you're considering installing tile to give your living room a clean and timeless look, we'll share our top living room tile ideas for 2024 in this article. Read on!
Should I Use Tile In My Living Room?
Tile is a terrific solution for the living room when it's done right. Not only does it come in various sizes, shapes, colors, and materials - all of which you can use to create custom looks - but it is also durable enough to withstand heavy wear and tear from everyday activities such as entertaining guests or playing with children. 
More and more homeowners are turning to ceramic and vinyl tile as an alternative to traditional carpet flooring in the living room for its easy maintenance and long-term durability. You might also want to consider the costs and benefits of
ceramic vs. porcelain floor tiles
for this space.
What is The Best Tile Color For Living Room?
The amazing thing about designing with tile is that your creative opportunities are virtually endless. No rules impede what's possible in any given space, and the ability to trim individual pieces makes mixing and matching styles easy.
That said, there are some popular colors for living rooms in particular. Designs for common areas like these are all about creating a warm and inviting ambiance for guests - in many cases, neutral tones like grey, cream, and beige are safe, if not very smart bets.
What Size Tile Should I Use For My Living Room?
We'll be honest by saying that the words living room and tile are seldom used in the same sentence. When it comes to this space, homeowners often default to carpet or hardwood, thinking it's their only option. 
Tile is always seen in bathrooms - how can it be incorporated into a more homey area? The answer is thoughtful selection and sizing. Unlike shower tile and bathroom floor tile, living room floor tile can play with a range of textures and even be installed over existing wood floors. 
Large tiles give the illusion of spaciousness, which many homeowners look for in their living space. They also require less grout and follow a simple installation process. But at the same time, small tiles do have their time and place; homeowners often use them to add detail to walls, furniture, and built-ins.
Our Favorite Living Room Tile Ideas for 2024
Now that we've answered some key questions, it's time to get inspired. These six living room floor tile ideas are sure to make your space look and feel refreshed heading into 2024:
1. Wood texture
Living room tiles? Wood? They can indeed go together. In fact, wood look tiles are a great alternative to the real thing, being easy to clean and more cost-effective in many cases. 
They're just as - if not more - durable and can be found in a wide range of colors and grains. Read our wood look tile buying guide to bring this classic and traditional look into your living room for 2024.
2. Marble aesthetic
Whose eyes aren't taken aback by marble? It's a timeless look that gives off an air of sophistication and luxury. It's also an easy style to find in tiles, whether you're in the market for real stone or porcelain floor tiles with marble patterns. In both cases, this living room tile concept applies well to fireplace areas or creates a striking feature wall.
3. Colorful mosaics
Add some color and creativity to your living room with a mosaic tile. A well-placed feature wall can make the entire room come alive, and you don't need to be a master of interior design to pull it off. 
This idea is ideal for wall accents and fireplace surrounds, but mosaic floor tiles can be equally as eye-catching. An abundance of vibrant colors and styles out there are sure to serve whatever concept you're going for. 
4. Sleek solids
Sometimes, keeping things simple is the best approach. Solid-colored tiles are an easy and affordable way to give your living room a contemporary and modern feel. We love using all-black and basic porcelain tiles for a cohesive, monochromatic look. This style can also create a statement floor or even an accent wall behind your TV.
5. Natural stone
Whether it's marble, granite, or slate, natural stone tiles are perfect for adding texture and character to any space. It's especially gorgeous in the living room, where furniture is often neutral in color. 
Natural feel stone will give the room a sense of warmth, and you'll have plenty of options for picking out colors and styles. Our top pick? Matte grey tile. It's incredibly easy to maintain and looks stunning with various warm tones.
6. Checkered patterns
The last of our living room floor tile ideas is a little bit unorthodox, but trust us when we say it's absolutely worthwhile when executed properly. All too often, homeowners over-emphasize a single color scheme or tone in their common space - think brown sofas, coffee tables, and fireplace mantles. 
Adding a pop of visual interest not through more color but black and white tile patterns can add depth and character to a room without removing its existing styling.
Bring Your Living Room Tile Ideas to Life
While 2023's top tile trends will certainly change, good tile is intended to last years without degradation. Whatever look you choose will likely define your space for a long time to come, so don't rush! 
Unlimited styles aside, the design process can be pretty fun if you go about things level-headed. It can also help to shop from a reputable supplier - Oasis Tile is a revered name in tile flooring ideas for living room spaces, bathrooms, backyard pools, kitchens, and so much more. Explore our floor tile buying guide and order your first samples today!