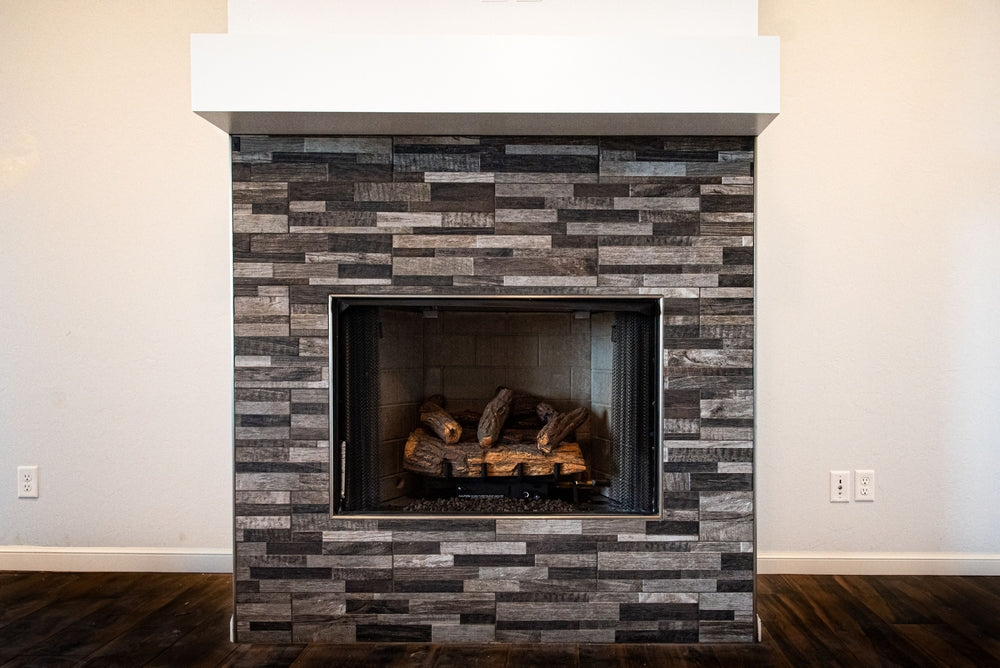 A Handy Fireplace Tile Guide for Your Home
Gather around everyone as we highlight one of the most underappreciated places for tile design - the fireplace. 
There are countless ways to give your own a facelift with the suitable types of tile, and we'll explore just that with our favorite fireplace tile ideas in this article.
The Anatomy of a Fireplace
Before getting into fireplace design ideas, it's important we first clarify the canvas we're working with. After all, fireplaces have multiple components and surfaces, not all of which may necessitate the same type of tile.
Here's a quick breakdown:
Hearth
The hearth is a flat, raised area right in front of the fireplace. It's usually the focal point of any room and requires special attention when selecting tiles for your fireplace design.
Firebox 
The firebox is the actual opening of the fireplace that holds and burns wood or gas.
Surround 
A fireplace surround is the fireplace wall - usually made of brick, stone, tile, or wood - that extends from the firebox to the ceiling. This is an excellent area to express your style and make a statement with decorative tiles.
How to Find the Best Fireplace Tile
Tile plays a functional role in fireplaces by protecting the walls and floors from sparks, heat, smoke, and soot. It also serves an aesthetic purpose, giving a fireplace its unique look and feel. Choosing the best one for your home will be a matter of considering both of these factors in tandem.
First and foremost, any tile used in a fireplace should be heat resistant. Denser natural materials such as granite, marble, or slate are ideal choices for this purpose. Thinner ceramic tiles may look nice, but they can crack in heat.
There are many creative possibilities between the hearth, firebox, and surround; choose the kind of look you want, then plan things out so that the most heat-resistant tiles are in the fireplace's hottest areas.
The value you get from your tile will ultimately come down to how long it lasts, so we advise against choosing aesthetics over material integrity. With that being said, though, high-quality tile is meant to last a long time. Pick something that looks bad, and your purchase will end up just as wasted.
Take the time to research different options and determine what will look best for your home. We've got plenty of 2024 tile trends and ideas to turn to for inspiration, but consulting a family member or even a professional designer may also be worthwhile.
What Material Tile Is Best For A Fireplace?
Not all tiles are made equal - materials respond to high temperatures differently, so it's important to make sure you choose the right kind. Inner fireplaces usually require specialized fireproof tiles, such as those made from ceramic, porcelain, or other stoneware. 
At the same time, peripheral areas that don't face direct contact with fire may get by with slightly more fragile glass or vinyl options. In any case, it's critical to do your research before making any kind of purchase and invest in heat-resistant grout for tiles close to the fire.
Porcelain
Porcelain is commonly used heat-resistant tile for fireplace areas, and it's often the best option due to its durability. These tiles are denser than other materials, meaning they can withstand extreme temperatures better without cracking or warping. Porcelain tiles come in various colors and finishes – from solid and matte to glossy or textured options.
Ceramic tiles
Just like the debate between porcelain tiles and ceramic floor tiles, there are plenty of reasons why you might choose this next type of material for your fireplace. It's more than capable of withstanding high temperatures and can last for many years if cared for properly.
Vinyl
Although it's one of the best tiles for heated floors, vinyl doesn't withstand hot fire very well. The material is polymer-based and, therefore, more prone to warping than its natural counterparts. Some homeowners still choose to use vinyl tiles for the surrounds and hearth of their fireplace, but you'll need to invest in a thick slab if you want it to last.
Glass
There are countless reasons to use glass tile in your fireplace. It is a naturally heat-resistant material and can be easy to clean. However, glass is also easily breakable and should only be used by more experienced DIYers or professionals. If you try using it yourself, use thick, tempered glass that can withstand high temperatures.
Stone
Natural stones like marble or granite are great for interior and exterior fireplaces. They are resistant to heat, stains, and impact damage. Not to mention, they're aesthetically compatible with almost any decor! Stone is also among the more durable tiles out there, at least when compared to ceramic or porcelain tiles.
Fireplace Tile Ideas
Tiles come in all sorts of shapes, designs, and sizes. The sheer variety of products makes for practically unlimited creative possibilities - especially in the fireplace, where light and high temperature can take ambiance to the next level.
Simple black and white porcelain tiles work amazingly in spaces with many existing colors. We wouldn't go overboard by enameling an entire fireplace with this look. However, it's definitely nice for added contrast between the hearth and surround.
Then again, it's hard to beat stone tile. The classic vernacular of the Old World never goes out of style, and these large-format tiles make for a beautiful statement.
Cohesive all-black glass tile can create a clean, modern, and sleek look like no other. Just be sure to pick products with a good high-temperature tolerance. Otherwise, you may end up with cracked tiles after prolonged fireplace use.
Other Important Fireplace Tile Questions
Are there any burning questions we've yet to answer? Here are some of the most common ones regarding fireplace tile.
What tiles are best for inside the fireplace?
We've already established that choosing the correct materials plays a big role in fireplace tile safety. Both porcelain and glass tiles are excellent options for the interior of your firebox. Still, you'll want to ensure whatever product you choose is rated for high temperatures (usually 1000 degrees Fahrenheit).
How do I choose fireplace tiles?
The right fireplace tile should be both aesthetically pleasing and appropriate for the environment you are creating. Start by narrowing down your search to only heat-resistant tile for fireplace areas. From there, let your imagination run wild by choosing products that complement the room's design, make a statement, or simply add warmth to your home.
What size tile is best for a fireplace?
The size of the tile you choose will depend on a few factors, such as the shape and size of your fireplace. Bigger tiles are easier to install, while smaller tiles are harder to lay out but can be used to create much more customized looks. 
In either case, choosing the right tile adhesive can't be overstated, as it will ultimately ensure your fireplace tile stays in place for years to come.
From colors and textures to materials and more, there are endless ways to use tiles to enhance your home's fireplace. All it takes is creativity, patience, and a great supplier. 
Oasis Tile is proud to offer a broad array of unique tiles for high-temperature applications in addition to porcelain floor tiles, porcelain wall tiles, and natural stone. Let us help you buy the perfect backsplash or fireplace tile for your space by exploring our wall and floor purchasing guide and ordering samples today.