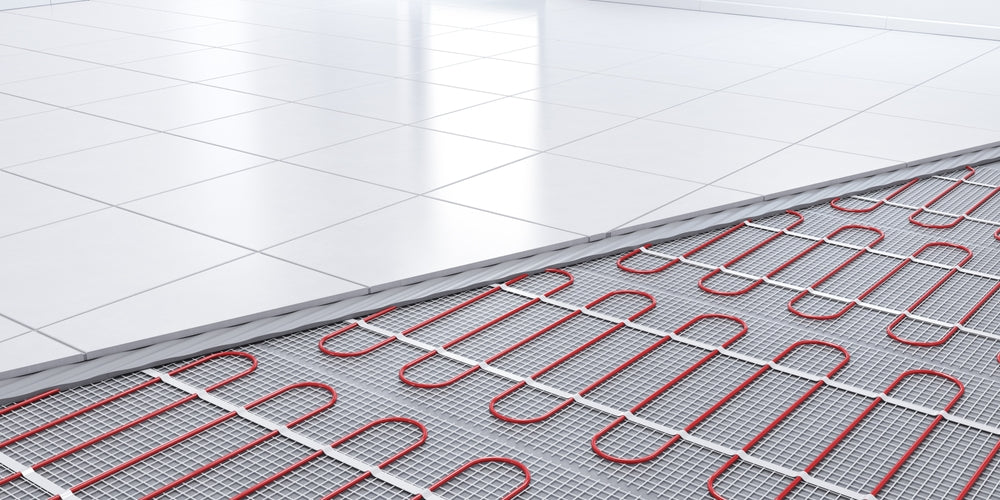 What Are the Best Tiles for Heated Floors?
When you step out of the shower and onto the floor, are your feet freezing cold? Have you noticed some rooms in your home are draftier than others? A heated flooring system may be the solution you're looking for! 
Heated flooring has become popular among homeowners, as it can be put into new houses or retrofitted into older homes. It also lowers heating bills, keeps you comfortable, and is relatively inexpensive to run. 
In addition to answering all your burning questions about heated floor tiles, we'll also be providing helpful tips on how to choose the best floor tile for heating your bathroom, bedroom, kitchen, and more!
But first, a quick refresher…
What is Radiant Heated Flooring? 
Radiant heating operates differently than traditional heating, as it works by warming the people and objects in the room directly. This means that radiant floor heating, like the word "radiant" implies, feels like warmth from the sun. Even if the air is cold outside, you'll be nice and toasty. 
Radiant heat can be delivered through the floor, walls, or ceiling to heat a single room or an entire home. 
Types of Heated Flooring 
There are two popular types of radiant heated flooring: hydronic and electric. 
Both heating types work by creating warmth on the floor so it moves upward in the room. 
However, they do create warmth in different ways.
Hydronic Flooring
Hydronic flooring uses hot water that is pumped through plastic tubing. It's the best option if the goal is to have radiant heating throughout an entire house. 
This style of heating uses a pump, a boiler, and gas lines. While this floor installation does cost more upfront, the cost to operate it is generally lower. 
Electric Flooring
An electric heating system uses special heating elements that are powered by electricity. 
These systems heat up fast and are easier to turn on and off because of how quickly they warm up.
Heated Floor Pros and Cons
Now that you know the basics of heated flooring, let's go over the pros and cons:
Pros
Heated flooring has so many advantages, it's hard to keep track!
Pros to heated flooring include:
Very little maintenance:

Once it's installed, you only need to worry about some simple tune-ups and

cleaning your floor tiles

.
Hypoallergenic:

Dust and allergens are reduced since the heating elements are under the floor and not being blown through vents.
Easy installation process:

Electric heating systems can be used under almost any flooring type and are purchased with heating cables pre-attached.
Cons
Heated flooring can get pretty expensive, leaving cost as the biggest pitfall of heated floors. But, that's basically the only negative. 
That said, because the heating system is controlled by a thermostat, you can control your heating costs once the flooring is installed. 
Heated Flooring and Tile 
So you're installing a tile floor, but you want the warmth of a heated floor, too. Can you have both? 
Well, we have some good news for you. Tile is the BEST type of flooring to have for a heated floor!
However, it's important to note that when it comes to a heated floor tile installation, there are some tiles that are far superior. This is because not all tile types are designed to withstand heat. 
If you don't select an appropriate tile material, you run the risk of your heated floor tile exploding or cracking (or melting if you have old, cheap vinyl tile)!
Factors to Consider When Choosing Tile for Heated Floor
When it comes to heated floors under tiles, there are many factors to ponder. Some of the primary considerations include: 
Durability
When deciding on the material for your heated flooring, you may want to consider how durable it is. If you have young children and animals who will be walking barefoot on your floors, then you'll want to find the best flooring material that can withstand pets and heavy use while keeping your toes cozy no matter what.
Conductivity
Some tiles can handle high heat and conduct more efficiently than others over long periods of time.
Cost
Another factor that may be important to you is cost. Cost considerations should not only include the tile itself, but all other aspects, including tile installation, grout, upkeep, and more. 
Design
Factors influencing design choices should not only include tile size and tile color. Operational aspects such as tile texture, thickness, and specialty heated floor tile grout should also be considered. These features can affect how resistant tiles will be to cracking during use.
Best Tile Types for Heated Flooring
Selecting a flooring type for a heated floor is more than comparing tile vs. hardwood flooring or carpet vs. tile flooring - it's about understanding which materials will be able to withstand consistent heat.
As it turns out, tile and stone are the best materials for underfloor heating. 
These two materials have high thermal conductivity, which means they transfer heat quickly, and they don't expand or contract during warming and cooling periods. Tile and stone also retain heat really well, so your flooring system will be efficient.Though quality glass tile, vinyl tile, carpet, or hardwood floor can usually be effectively installed overtop of a radiant heating system, the best floor tile types for heated floors are:
Natural Stone
Not only do they look beautiful, but natural stone tiles are a great option for heated floors.
Natural stone tiles are durable enough to withstand high temperatures without breaking or warping, making them a perfect choice for under tile heating systems. In addition, natural stone tiles offer excellent thermal insulation, which means that they can effectively retain heat and warm up your entire home. 
Porcelain
Porcelain floor tiles are an amazing choice for radiant heated floors for a number of reasons. Though there are some differences between ceramic floor tiles vs. porcelain floor tiles, one similarity is that, like ceramic tile, porcelain tiles are heat-resistant. 
Get this - in order for porcelain to actually crack, it would need to be heated to temperatures higher than 2600F!
These tiles have a very low coefficient of thermal expansion, meaning that they are less likely to crack or chip when exposed to changes in temperature. Porcelain tiles can also handle intense heat without losing their structural integrity, which makes them perfectly suited for use with radiant heating systems. Their slim profile also allows them to heat up quickly. 
Cost of Installing Tile Over Heated Flooring
When you're ready to install your heated flooring, you do have to tear up your current flooring. It's the necessary evil of proper tiling over underfloor heating.
Don't worry, we get it. The thought of tearing up your existing floor is likely headache-inducing! 
At least at the end of the painstaking process, you'll have heated floors! Better yet, with proper maintenance and care, radiant heated floors can last 20+ years without issues. Worth it in our opinion!
Given that heated floor tile cost can add up rather quickly, the easiest and most cost-effective way to manage this kind of project is to install the flooring as part of a remodel or during a new build.
Important note: If you decide to install tile over your heated floor system yourself, ensure you do your research and follow the appropriate steps. Did you know you have to lay down a tile mat/subfloor? Exactly.
Leave Cold Feet in the Past
Having a heated floor in your home is your own personal piece of luxury. Just imagine stepping out of your shower onto gorgeous, heated mosaic floor tiles. Hello, home spa vibes.
Whether you want to install heated flooring under your bath tiles, kitchen tiles, or bedroom tiles, we can guarantee that you'll be glad you did! 

And there's no better place to find the best tile for heated floor than right here at Oasis Tile. Shop our wide selection of top quality floor tiles now!