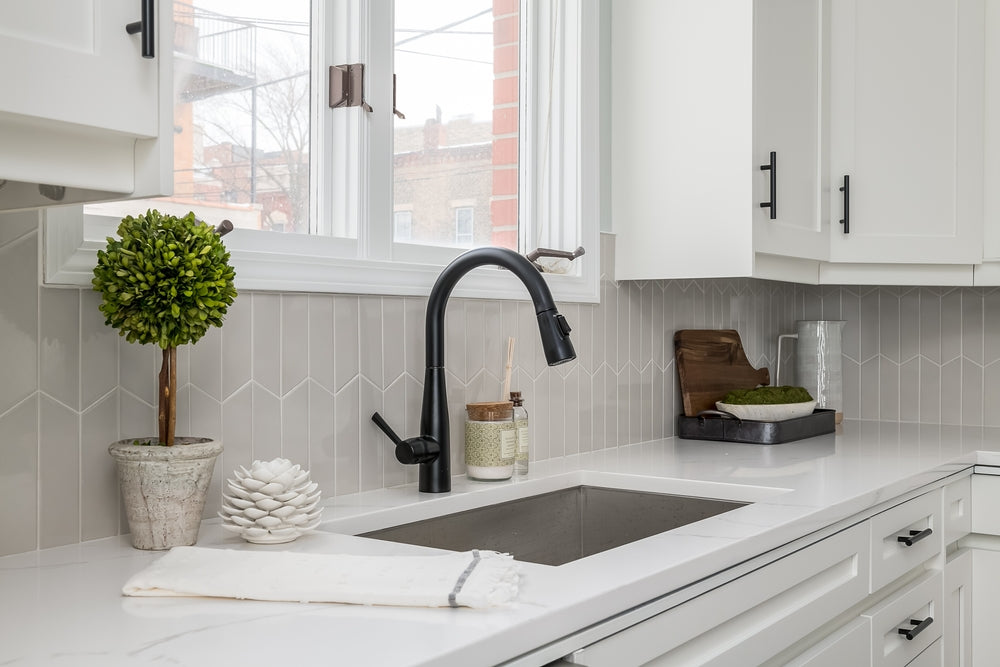 Kitchen Sink Backsplash Ideas, Inspiration & Tips
When you look at the backsplash behind your sink, you may be looking at it all wrong. Instead of thinking of this area as a place that keeps your wall from getting wet every time you do the dishes or wash your hands, you should also be looking at it as an art canvas where you can make your kitchen look even more beautiful. To accomplish this, you'll need to know all you can about what's involved in turning your kitchen sink backsplash into a thing of beauty. Now that your curiosity has peaked, our team here at Oasis Tile is here with everything you need to know.
Does a Kitchen Sink Need a Backsplash?
Technically, no, your kitchen sink does not necessarily need a backsplash. However, if you don't have one, expect the wall behind your kitchen sink to stay wet most of the time, which will lead to unsightly water damage and eventually repairs needing to be made to the drywall or plaster.  
When you install kitchen backsplash, it's done so primarily to be functional. Along with preventing water damage, it also helps protect against grease splattering the wall, as well as keeping knives or other items from scraping it. 
Yet functional does not have to mean dull and boring. In fact, recent backsplash tile trends have kitchen sink backsplashes becoming works of art in more and more homes. Because of this, you can install a kitchen sink backsplash using a variety of tiles such as porcelain, ceramic, glass, stone and more.
Factors to Consider 
Once your imagination starts to run wild with the many possibilities you now see for your kitchen sink backsplash, you should keep a few tips in mind.
Budget
First, know how much you want to spend on your kitchen sink backsplash. If you are on a tight budget, ceramic tiles are an affordable option, and can come in many different colors.  
Easy Installation
If you want to make this a DIY weekend project and save plenty of money on labor and installation costs, we can tell you installing a backsplash behind your sink is actually pretty easy. Once you have your tile and a few supplies like thin-set mortar, grout, spacers, and other necessities, you'll find your DIY skills can create a thing of beauty in a day or two.
Low Maintenance
Next, keep in mind how easily you want to be able to keep your backsplash clean. Ceramic, glass, and porcelain tiles are easy to clean no matter what gets splattered on them, be it grease, food, or anything else.
Style
If you are like many people, you probably assume the backsplash behind the sink can only be about 18-24 inches high. However, that's not the case in many of today's kitchens. Once you begin looking over the various backsplash tile trends that are currently trending and expected to grow even more in 2023, one of the biggest is having backsplashes that go all the way to the ceiling. Should you not have any wall cabinets or windows impeding the path of your backsplash, doing this can take your kitchen sink backsplash to a whole new level.
Inspiration for Your Kitchen Sink Backsplash
Now that your mind is starting to get more and more excited about what you may be able to do with your kitchen sink backsplash, it's time for us here at Oasis Tile to give you some inspirational ideas.
Try Glossy Glass Tiles 
If you want to turn your kitchen sink backsplash into something spectacular, glass tiles in a glossy finish can make it happen. Along with having a fancy look, glossy tiles are also great at reflecting your surroundings, which helps to make your kitchen look much bigger. Best of all, glossy glass tiles are very easy to clean, meaning you'll have more time to spend on the fun things in life.
Use Tiles in Neutral Colors
Tiles featuring neutral and earthy tones of cream, brown, and green always look elegant and can add a modern but sleek look to your kitchen. For rustic charm and a sense of warmth and comfort, going for tiles in neutral shades for your kitchen sink backsplash is an excellent option.
Match Backsplash and Kitchen Island
If your kitchen has an island, you may want to give it a very cohesive look by using matching tiles for both your backsplash and your kitchen island. A trend that is becoming very popular in newer homes, you may want to do like many interior designers and have your backsplash match your kitchen floor tiles as well. If you do, you'll be able to look around your kitchen and see nothing but beauty from floor to ceiling.
Adopt the Uniqueness of Mosaic Tiles
Finally, don't make the mistake of overlooking mosaic tile. Arguably the most stunning and beautiful looking tile in use today, you can get it in virtually any color and style to create a unique backsplash and turn your kitchen sink into a show-stopping masterpiece.
Shop Premium Kitchen Backsplash Tiles at Oasis Tile
Well, there you have it. Now that we've given you plenty of tips for your kitchen sink backsplash, it's time for you to visit Oasis Tile and buy your tiles from our vast collection of colors and styles. No matter what you have in mind for your backsplash behind the kitchen sink, we'll have just what you need.