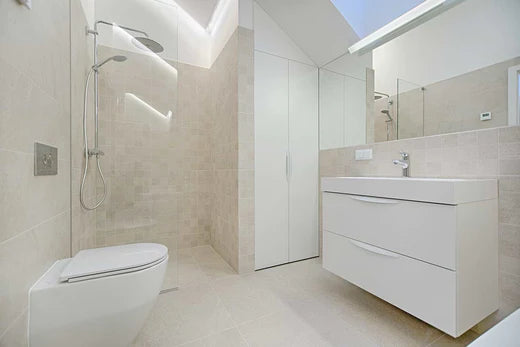 How Tiles for Curbless Showers Can Bring Your Bathroom to Life
A curbless shower can turn a small, drab bathroom into an oasis. These showers also provide accessibility, easy cleaning, and lots of flexibility when it comes to design. 
Bathroom tile goes hand in hand with a curbless shower. In this article, we discuss how to choose the best tiles for curbless showers in order to create the perfect bathroom sanctuary. 
Let's dive in!
Curbless Shower vs Curb
If you've ever done a bathroom remodel, you've probably spent countless hours contemplating what type of shower you want. 
There are 2 main walk-in shower types: curbless and curbed.
Curbless Shower
A curbless shower is a unique type of shower that does not have any raised edges or boundaries. Instead, it features a completely seamless, level surface, allowing users to transition directly from the bathroom floor into the shower. 
Curb Shower
On the other hand, curbed showers feature a raised wall or "curb" around the perimeter of the shower area. Think of a more traditional, tub-like structure.
Pros and Cons of Curbless Shower
With their gorgeous aesthetic and elegant profile, it's no wonder curbless showers are so popular!
However, curbless showers are so different from their traditional counterpart. You may question the benefits of them if you are used to using curbed showers. 
Time to explore curbless shower pros and cons. 
Pros
If you are interested in a curbless shower, you'll love these pros!
Easy Entry and Exit:

Because there are no ledges or edges to step over, tripping hazards are completely removed. Curbless showers are a safer option for aging individuals, young children, and those with mobility issues.

Can Be Used in Big or Small Spaces:

Curbless showers are specially designed to fit unique spaces, like corners and tight areas.

Hello curbless shower small bathroom charm!

Open Feeling:

Without the large footprint of a bathtub, even the smallest of bathrooms will feel more spacious.

Faster Cleaning:

Curbless showers have fewer nooks and crannies for soap scum to build up on.

Curbless Means Curtain-less:

Removing annoying shower curtains keeps your shower cleaner by reducing molds and mildews.

Don't Need a Sliding Shower Door:

Sliding door rails trap filth and attract soap scum, mold, and mildew. They are also a pinching hazard and easily damaged.  

Display Your Tile:

Curbless showers are surrounded by glass, meaning that your stunning shower wall tile and shower floor tile will be highly visible focal points. 
Cons
Despite all the positive aspects, there are some potential disadvantages of curbless shower to consider.
Water Can Get Everywhere:

Since there is no tub to keep water contained, there is a risk of it flowing out of the shower and all over the bathroom floor if it's not installed correctly. 
Don't Have the Same Privacy: Curbless showers are typically completely open, glass structures, which equates to less privacy.
Choosing the Best Tile for Curbless Shower
When trying to find your favorite and best flooring for curbless showers, there are several factors to consider.
Choose Your Design
First and foremost, you will want to think about the style of the tile itself. 
Do you want traditional, modern, or something in between? Are the bathroom tile colors high contrast, or do they blend together gently? Do you prefer subtle patterns, or do bold geometrics better fit your aesthetic preferences?
Design always requires that you ponder questions like this, but for walk in curbless shower transformations, these considerations are so important. 
Curbless showers can be thought of as an open concept space - they are forever on display. Therefore, if you prefer a more minimalist aesthetic, opting for a neutral, subtle pattern or modern tile will likely best suit your style. On the other hand, if you enjoy bold designs, choosing a bright tile to create an accent wall in your shower will showcase your personality.  
Consider Cleanability
Everyone wants a clean bathroom/shower tile, right?
Given that water, mold, mildew, and soap scum can impact the longevity of the tile, cleanability is one of the most important factors to consider. 
To combat this issue, it's important to look for tiles that are specially designed to be easy to clean. These may include materials and finishes that do not absorb grime as readily, like glossy finished, glazed, and porcelain, bigger tiles that have less grout to clean, or tiles with sloping edges that help keep fluids from pooling in one place.
Make Sure its Durable
In general, durability is key when it comes to tile selection. This has never been more true than in a shower. 
You want a material that will be able withstand repeated exposure to water and humidity without cracking or becoming damaged. This is important not just for practical reasons – such as preventing leaks – but also for aesthetic reasons, as cracked tiles can look unsightly and detract from your shower's overall design. For example, porcelain tile is extremely durable, which is why it's such a popular choice for curbless showers! 
Find the Right Tile Size
When choosing tile for your curbless shower, tile size is a crucial component. After all, tile serves as the foundation for a curbless shower! 
While you want tiles that can support even weight distribution, determining a tile size is also impacted by other factors, like shower drain placement. 
Opting for a smaller tile size on the shower floor can help optimize grip, increasing its resistance to slips, while large tile may be better suited on the shower walls.
Think About Tile Material
Durability and cleanability aside, we always recommend choosing tile types that suit your lifestyle, as protecting your shower and bath tiles after installation is crucial for its longevity. 
For example, though natural stone tile is beautiful in a curbless shower, it tends to require a lot of maintenance and upkeep to stay pristine. It also needs to be properly sealed before use, as it's incredibly porous. Therefore, if you are someone who doesn't want to spend time giving certain home features special attention, you may find that porcelain tiles and glass tiles are the best tiles for curbless shower floor. 
Important note: Ceramic tile is beautiful in showers, but given that it isn't as dense as porcelain, it may not be the best flooring for curbless showers. It does, however, make some of the best tile for your shower walls!
Ease of Installation
Knowing how to tile a curbless shower can be challenging. 
If you decide to complete a shower tile installation yourself, ensure that you have taken the proper preparation steps (such as installing an appropriate shower subfloor, etc) and follow all instructions to ensure that your bathroom tile installation goes as planned.
Create a Budget
Perhaps one of the most important considerations when selecting shower wall tile and shower floor tile is budget. Buying floor tile can get really expensive, and the tile installation can also be tricky and time-consuming. 
As such, it is important to set a budget for your tile ahead of time for the entirety of the project in order to ensure that you find the right tile within your price range. 
Curbless Shower Tile Ideas
When it comes to designing your perfect tiled curbless shower, there are so many bathroom tile trends and styles to pull inspiration from!
If you are in need of some curbless shower ideas, we've got you covered!
Here are some of our favorite curbless shower floor and wall tile ideas. 
Herringbone Tile
Herringbone tile is one of the most beautiful and versatile options for use in curbless showers. Its distinctive pattern and eye-catching, geometric design make it the perfect choice for shower floor tile and shower wall tile. 
Why not try a polished stone tile in an elegant white tone, like one of our favourite Boardwalk Herringbone designs!
Accent Wall
Accent tile walls can make a shower look truly beautiful. When combined with the seamless glass that surrounds a curbless shower, it can look like an art piece on display! 
Tiled accent walls add texture and interest, transforming a functional shower space into something truly dazzling. Additionally, they help to create a sense of balance by adding pops of color, pattern, or texture in carefully chosen places. 
Create the perfect curbless shower tile transition with an accent wall in our Daisy Field or White Rose Waterfall tiles.
Bold Colors
There is something undeniably pleasing about a brightly-colored shower tile. Whether it's a bold and vibrant orange or an earthy green, these tiles evoke feelings of excitement and energy. 
What's more, they are absolutely perfect for bathrooms or other areas where people are likely to spend a lot of time. As we all know, our environment has an enormous impact on how we feel, and colorful shower tiles can play a key role in bringing joy and vitality to your space. 
Mosaic Tile
Timeless and elegant, mosaic tiles are a great option for showers, whether you're looking for a classic old world aesthetic or just want to give your bathroom a fun pop of colorful flair.
Because mosaic tile designs are visually interesting and repetitive in nature, they create a soothing visual effect that can help to reduce stress and calm your mind as you shower each morning. 
Create a jaw-dropping, spa-worthy shower with mosaic designs like Florencial Sutori Flora Brown and Florencial Piso Bella Green. 
Glass Tile
Shower glass tiles have a bright, reflective surface that helps to make small spaces feel larger and light up everything around them. They are also impervious to moisture and easy to clean, making them perfect for high-traffic areas like bathrooms. 
Give your shower the perfect shine with this Carolina Dots Penny Round glass tile. 
Subway Tile
Subway tiles are a popular choice for shower design, due largely in part to the fact that they have a clean and simple aesthetic that looks beautiful in any modern bathroom. 
Furthermore, subway tiles lend an air of luxury to the bathroom, creating an overall impression of elegance and opulence. 
Keep your subway tile classic with Horizons Matte White tile or jazz it up with this stunning glossy, marble look Elegant Swirl Lite tile.
Pebble Tile
Pebble tiles are a popular choice for showers and wet areas due to their distinctive look that is both sleek and natural.
Because of their unique texture, pebble tiles offer several other benefits as well. For one thing, the surface of these tiles helps to prevent slipping, making them a top contender for the title of best tile for non-slip shower floor! 
Bring the outdoors in with our popular Riverbed Pebbly Shore tile.
Glossy Tile
When it comes to designing a beautiful shower, few materials are more effective than glossy tiles. These tiles have a polished and sleek appearance that looks simply stunning in the wet environment of the bathroom. 
Not only do glossy tiles deliver an eye-catching look that you'll adore for years to come, but their smooth finish makes them a breeze to clean - bonus!
Add instant elegance to your shower with this Metallic White Chevron design.
Make Your Curbless Shower Tile Dreams a Reality!
So, what do we think? Are curbless showers a good idea?
We sure think so!
Nothing screams relaxation and luxury quite like a beautifully tiled zero entry shower. With endless options for curbless shower wall tile and creative curbless shower floor tile ideas, you can really make your modern bathroom your own slice of paradise!

Want to shop for quality bathroom tile to find the best tile for curbless shower? Our wide selection guarantees you'll discover your perfect match!