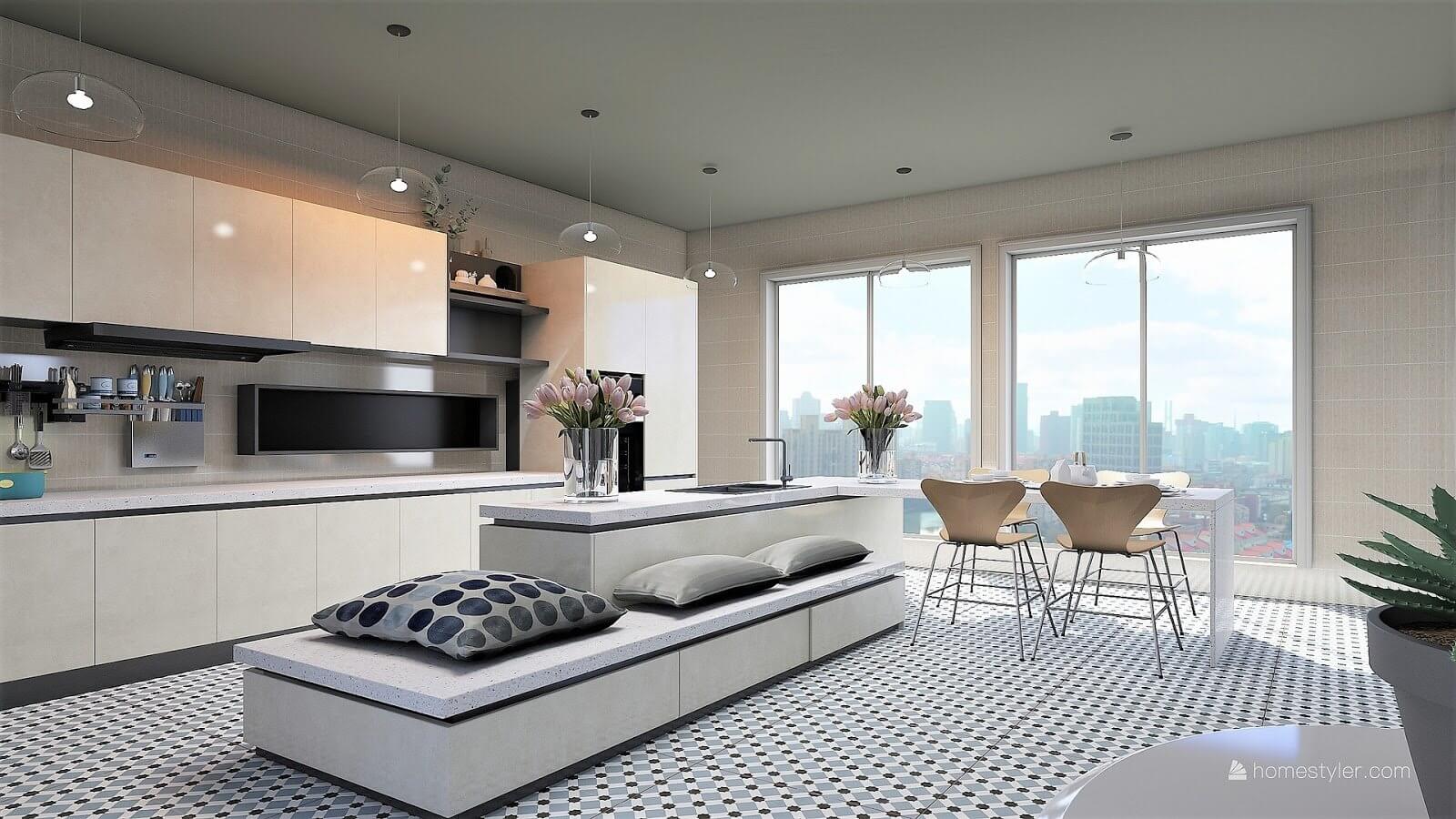 Modern Kitchen Tile Ideas
The best modern kitchen designs are forward-thinking, sleek, and stylish. They are intended to be functional yet still look beautiful in the home. Many kitchen tiles are also various textures, colors, and patterns that give you infinite possibilities when remodeling a space. 
This article will show you how to go about the selection process and provide some contemporary kitchen tile ideas you can use to inspire your designs.
Set a Budget for Your New Modern Kitchen Tiles
The first thing you need to do when shopping for modern kitchen floor tiles is set a budget. Whether you have a lot of money to spend or just need to work within a limited budget, it pays to figure out what you can afford before beginning your search.
When setting the budget for your new kitchen tile purchase, consider:
The size of your kitchen

How many tiles you need to purchase

Any installation costs (if applicable)
It's also essential to consider whether you want a particular type or style that may cost more than another material or design. 
Modern kitchen designs don't have to be expensive - plenty of affordable options still look great. We recommend porcelain tile if you're looking for cost-effective contemporary kitchen tile ideas. Not only is it sleek and durable, but also very easy to clean.
Choose the Best Layout for You
Whether it's because of an inherited tacky style or mismatched kitchen sink backsplash, chances are you're interested in exploring modern kitchen tile ideas for a reason. Make this reno worthwhile by assessing what you do and don't like about your current look.
Are there too many vibrant colors? Maybe neutral colors overwhelm the space, and a backsplash design for white cabinets could add some visual interest. 
Throw everything but the proverbial kitchen sink at the drawing board to settle on a design you'll love for many years - because that's precisely how long this tile should last!
Modern Kitchen Tile Ideas
Of course, we'd be remiss not to share some modern kitchen tile ideas you can use to inspire your design journey. 
Browse these simple but powerful concepts and some of our top product recommendations for creating them.
1. Try Stone Tile Kitchen Backsplash
Stone tile is often reserved for surfaces like kitchen countertops, but you can also use it as a modern backsplash! Simple, warm, and low-maintenance, this unique kitchen backsplash idea will impress your dinner guests.
2. Have Fun With Mosaic Tiles
Mosaic tiles rank high on our list of favorite contemporary kitchen tile ideas. They come in all shapes, sizes, and colors, allowing you to create a truly unique design that suits your personality. 
And going with mosaic tile doesn't have to mean embracing vibrant colors - you can just as easily create an abstract look with products like this Mini Herringbone Glossy Glass Tile.
3. Start and End With Subway Tiles
If your kitchen is on the smaller side, why not go with a classic subway tile pattern? It's timeless and can be easily combined with countertop materials like quartz or granite for a winning look. This black and glossy subway tile, in particular, is easy to install and affordable.
4. Glass Tile Is Your Friend
We suggest glass tile if you're looking for something timeless and contemporary. Products like our White Glossy and Frosted Glass Herringbone Tile are classic and modern, helping you achieve that perfect balance of style. 
Plus, glass backsplash tiles come in various sizes and colors, so you can mix and match to your heart's content. 
5. Mix Aesthetics With Practicality
There are plenty of mistakes you don't want to make when choosing kitchen tile. One of them is prioritizing looks over practicality. Sure, looking at 2023's top kitchen tile trends can be a great way to get some ideas, but those modern kitchen floor tiles you end up with may not be up for the job. 
Decko Vivid Sky Blue Elongated Hexagon Tile is a versatile product that is as visually attractive as it is tough. You can never go wrong with a kitchen backsplash tile that features both.
CHOOSE THE BEST MODERN KITCHEN TILES FOR YOUR HOME
From modern kitchen floor tiles made of porcelain to classic and contemporary matte tile and glass options, there is sure to be a kitchen tile for your home in Oasis Tile's collection. We offer a variety of premium products at prices you can't beat. 
So, why wait? Put these backsplash ideas to use by exploring and ordering some samples today!