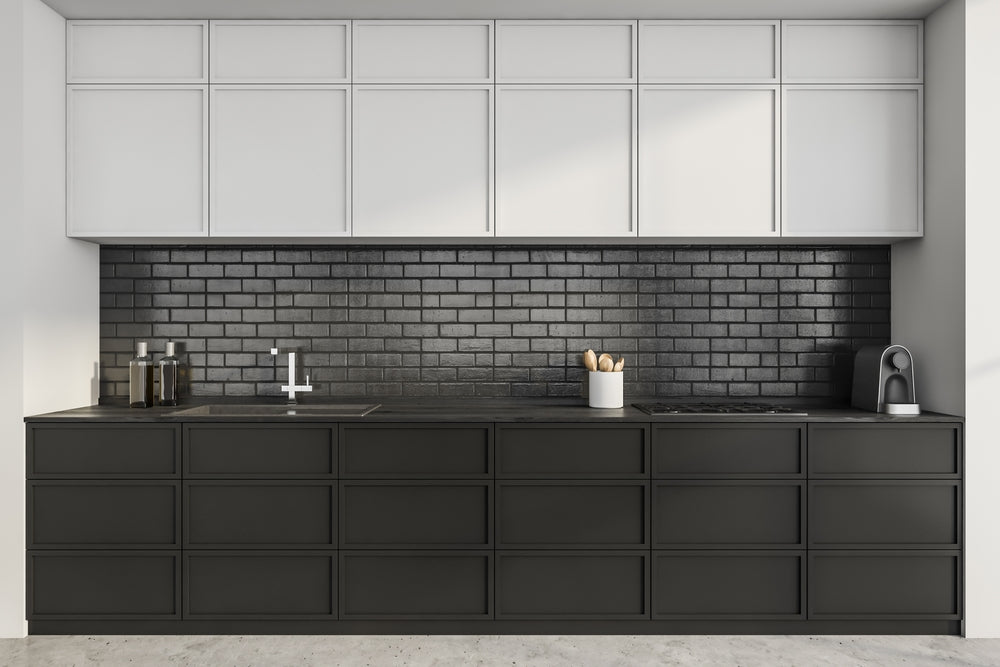 Unique Kitchen Backsplash Tile Ideas to Spruce up Your Home
Are you looking for a kitchen backsplash that stands out from others? Kitchen backsplash tile can be trendy –  it doesn't have to be boring. With thousands of tile options available for your kitchen wall, finding the right one just takes some imagination (and a little backsplash tile buying guidance).
At Oasis Tile, we've put together some eclectic and unique backsplash ideas to make it even easier for you to complete your kitchen's interior design.
Unique Kitchen Backsplash Tile Ideas
1. Greek-inspired
If you want to feel like you're in paradise, go for Greek-patterned tiles. The tiles feature gold, blue and white and incorporate marbling to give off a Grecian aesthetic. Keep the airy feeling by adding breezy white linen curtains to the windows in your kitchen, and accent your kitchen wall with colors from the tile. Once everything is pulled together, you will feel like you're visiting a Greek island.
2. Shell-ac
Sweet mother of pearl! You'll be reminded of the ocean with this gorgeous glossy shell tile. The pearlescent sheen will twinkle and dance every time you move through your kitchen, giving the room a beautiful backsplash with an ocean feel. Pair it with silver hardware accents to complement the pearly white color, and add a scented plug-in that fills the room with an ocean breeze.
3. Mirror Mirror on the Wall
If you want the illusion of more space in your kitchen, then choose mirrored glass tiles for your backsplash. They give off an elegant vibe with a Parisian look – think Hall of Versailles. Furthermore, their reflective surface makes the room feel larger. 
Mirrored tiles come in many colors – blue, gray, stone, bronze, silver, and gold. The only downside to mirrored tiles is you have to keep them clean; otherwise, their reflections won't be as bright.
4. Back to the Bronze Age
There's something classic about bronze, and while these glossy porcelain tiles aren't made from metal, they offer an antique aesthetic, reminiscent of cobblestone. Mix up the color on your wall with these circular cocoa tiles and add a fun splash of rustic (not rusty) texture to your kitchen.
These tiles would go great with a collection of stone cookware, too.
5. Swirling White Marble
There's a reason people love white: it's timeless, classic, and goes with everything. Push it even further and find a white marble with interesting patterns throughout the surface of the tiles. If you have a pastel or a dark kitchen wall, white marble subway tiles are an excellent complement.
If you don't want your kitchen backsplash tiles to take away from the style of your kitchen, white marble is a good choice. White is subtle enough to blend in the background, but the marble look gives the tiles character. You can even play with fun shapes, like our Cararra glass tile, to make it stand out a little more.
6. Add Character with Patterns
When you want to make a bold statement, choose a patterned option for your kitchen backsplash tiles. Patterned tiles can give off a vintage look while still adding an air of elegance. If you're aiming for a more modern minimalism look, you might want to pass on patterned tiles.
Our crackled lantern glass tile offers a mix of patterns, materials, and shapes.
7. Mesmerizing Mosaic
If you decide to install tile backsplash yourself, consider using mosaic tiles. They are DIY-friendly and are put on an adhesive mesh that sticks to the wall, so you don't need to cut tiles or put grout in between them. Not only does this cut down on time, but it also saves you money! 
A textured blue and white glossy glass tile backsplash is eye-catching and the perfect tile for a mosaic in your kitchen.
8. Galvanized Metal
How about an industrial-inspired modern look? The metal backsplash is simple to use and offers a sleek look once you are done. Furthermore, galvanized metal tiles typically come at affordable prices, so it won't break your budget. Our glassy steel tile gives you the best of both worlds.
9. Oceanic
Add a splash of the sea to your walls with a stunning mix of blue and green that resembles ocean waves. Our Crystal Lagoon glass tile swirls colors of deep blues, teal greens, and gold accents that will make your kitchen feel inviting and serene. Gold hardware on your cupboards or lights will also help tie these details together, giving you a bright and airy kitchen.
10. Simplistic Brick
Sometimes, simple is better! If you have brick hiding behind your current kitchen backsplash, let it out. Exposing your home's natural brick is an easy, affordable way to make your space cozier. 
If you don't have brick but want to replicate the look, we've got the solution  – from glossy blue glass brick to matte cinnamon brown brick, these tiles make for a unique take on the look.
11. Monochrome
We've already talked about white tiles. When you add black tiles to your kitchen, you add a simple yet elegant look. Black and white tiles come at affordable prices, and there are many designs (like this knotted stone) you can make with these colors if you'd like something a little more interesting than classic. When you want a sophisticated look that saves you money and looks great with most anything, black and white triangular tiles are a good option.
12. Polished Stone
Stone tiles are durable, sturdy, and beautifully textured. If you're looking for a backsplash for a unique kitchen, stone offers a variety of colors, patterns, textures, and designs. Stone makes for a modern kitchen backsplash, and this gray cubed tile even gives off a 3D look!
Choose a Unique Backsplash for your Kitchen
Don't limit yourself when it comes to kitchen backsplash tile. There are many options available, no matter what kind of style you want. From subway tile to mirrored tile to mosaic tile, there's something for everyone (and the kitchen sink).
There are plenty of options for materials and textures to suit your style – stone, porcelain, metal, ceramic, and glass come in all types of colors, patterns, and designs. 
Let your imagination go wild and get inspired with Oasis Tile.