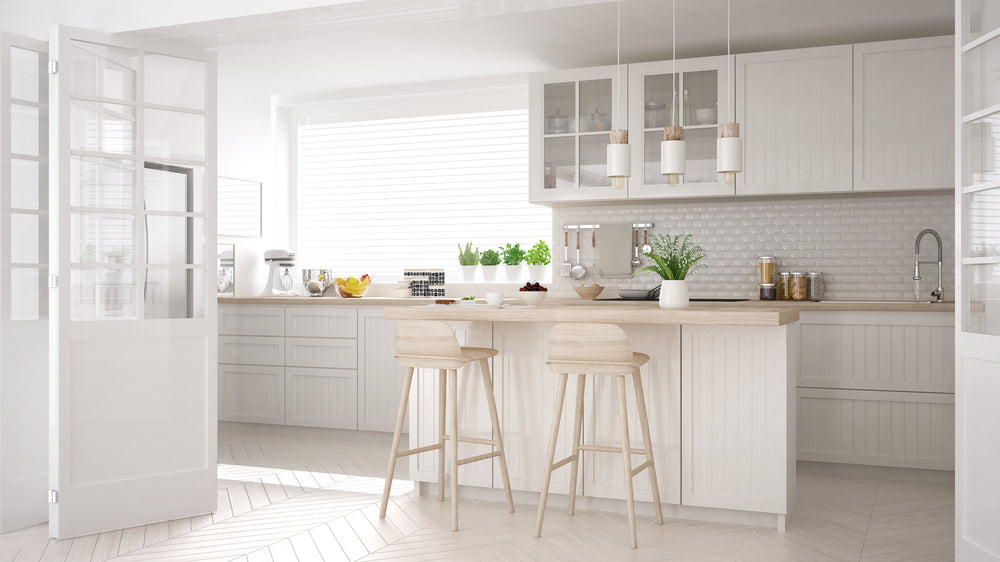 Backsplash Ideas for Kitchens with White Cabinets
White cabinets are a dream for any kitchen – sleek, modern, and elegant. Their simplicity makes them versatile and easy to style, and they give you a bit of a blank canvas to work with. 
If you find yourself at a loss for inspiration while choosing backsplash tile for your kitchen renovation, don't worry! We've compiled this helpful article to guide you through the design process and offer up some great backsplash trends for white cabinets.
What Backsplash Looks Good in a White Kitchen?
Unfortunately, there isn't only one answer to this question. It depends on a couple of factors. 
The style of your kitchen: Is it modern, traditional, or somewhere in between? For kitchen sink backsplash - how has your sink been designed? What types of fixtures does it have? 
The other colors and materials in the space: What is the countertop made of? What color are the appliances? What color are your kitchen walls?
Your personal preferences: Do you prefer a subtle look or something more bold and eye-catching?
Should Kitchen Backsplash Be Lighter or Darker Than Cabinets?
Short answer: it can be both. The ultimate goal of backsplash design is to balance the colors and materials in your kitchen. If your cabinets are white, you'll want to consider using a backsplash that is a shade either lighter or darker than the cabinets.
What Color Tile Goes Well With White Cabinets?
Again, there is no definitive answer to this question. It depends on the style of your kitchen and the other colors in the space.
Some white kitchen owners opt for tiles that are a similar shade of white. This creates a seamless look and can help make the space feel larger.
Others prefer to contrast their white cabinets with a darker tile, such as gray or black. This can help to ground the space and add a bit of visual interest.
For a more traditional kitchen, you might consider using tiles in shades of cream or beige. And for a modern kitchen, you could experiment with white tiles that have pattern or texture.
Backsplash Tiles for White Kitchen Cabinets: Our Favorite Ideas
Now that you have a better understanding of what to consider when selecting tile for your white kitchen cabinets, it's time to get inspired!
Keeping Things Unique With Shapes
Shapes are a great way to add character to white kitchen cabinets without going overboard. You can use shape to create a focal point or simply to add some visual interest.
For a modern kitchen, consider using chevron-shaped tile, mosaic tile, herringbone tile, or mini uniform brick tile. You could also use a more traditional shape, like subway tile, but in an unexpected size or orientation.
Shapes are among our best backsplash ideas for white cabinets and granite countertops because they can add a bit more character to your decor while staying plain. This is specifically helpful when you don't want to add any more color to your kitchen or are having trouble finding tiles that will match.
Go With Texture
In need of backsplash ideas for white cabinets and quartz countertops? The answer may be as simple as opting for textured tile.
Textured tile is a great way to add interest to a kitchen backsplash while complimenting a fine stone like quartz. It's also a good choice if you're looking for an easy way to add some dimension to your space.
For a classic kitchen, try using subway tile or mosaic in shades of blue, gray or cream. If you want something a little more modern, consider using gray and black glass, metal, and stone tiles. In most cases, you'll be fine using as much color or as little as you want, as the cabinets and countertop will balance everything out.
Embrace Differences
Polar opposites can be a great combination when it comes to backsplash ideas for white cabinets and black countertops. While it may seem counterintuitive, the stark contrast between these two colors creates an opportunity to design a show-stopping backsplash. It's all about striking a balance.
For example, if your cabinets are white and your countertops are black, you may want to consider using a backsplash with one or more shades of gray. This will help to tie the two colors together and create a more cohesive look.
If you're feeling bold, you could even experiment with a black and white patterned tile. Just be sure to use small tiles so that the overall effect is not too overwhelming.
Get Glossy
For a sleek and modern kitchen, go with a glossy backsplash. Glossy finishes reflect light and can make your kitchen feel brighter and more open. This type of backsplash tile is also easy to clean, which is always a bonus in the kitchen.
When it comes to backsplash ideas for white cabinets and white countertops, glossy tile is a great choice. It will help to brighten up the space and create a cohesive look. You could use white subway tile or white mosaic tile for a classic look, or opt for black or gray tile if you want something a little more modern.
Ready to Make the Most of Your Kitchen's Features?
As you can see, whether you're looking for a fresh and clean look, or something a little more unique, there are plenty of ways to style white kitchen cabinets. Just remember to take into account the other elements in your kitchen, such as your countertops and backsplash, when making your selection.
If you're ready to start shopping for
backsplash tiles
, head over to Oasis Tile. We have a wide selection of tiles in all colors, styles, and materials. Whether you're looking for something classic or modern, we're sure to have the perfect tile for your kitchen.