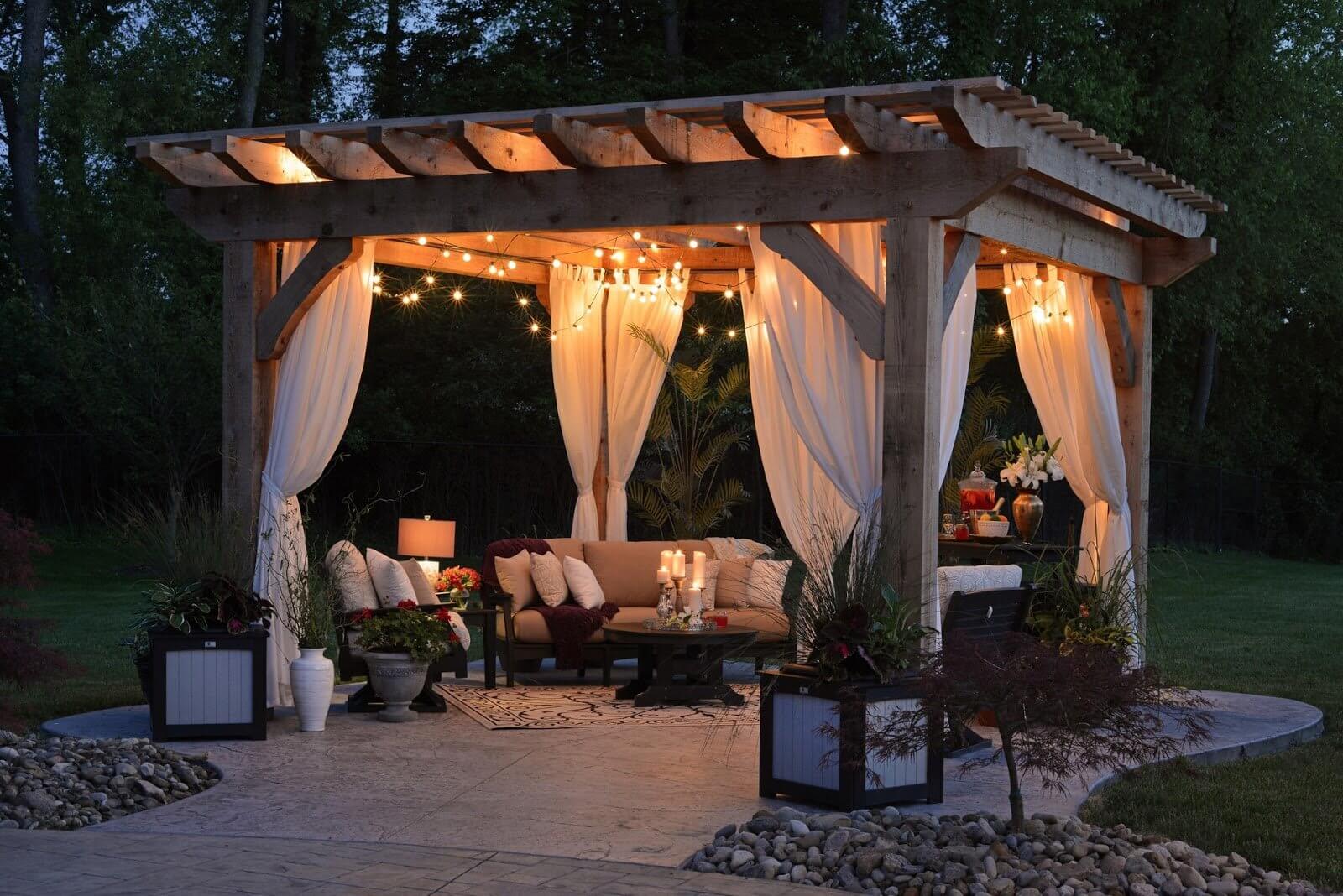 Easy Ways to Update Your Outdoor Space
It's almost summertime, which means it's time to head outside. Barbeques, patios, pools, and lounging in the sun are in the near future. Chances are your outdoor space needs some updating.

Where do you start? We have ideas to update your outdoor space. The best part is, many of them are budget friendly. Take a weekend to spruce up your outdoor space so you can enjoy it the rest of the summer. You'll be glad you did!
Privacy Patio Curtains
Privacy doesn't have to come from a fence. If your neighbors live closeby or you just want more privacy on your patio, hang some curtains. Outdoor curtains withstand weather while giving you the much needed privacy. Hang curtains around your outdoor seating area so you can open and close them as you want.

Stencil on Wood
Want to update your wood panels, whether it's your fence or pallet table, but don't know where to start? Get some stencils and paint the pattern on the wood. There are places to create personalized stencils or choose one already made. Once you find the right stencil, choose paint colors that go with your outdoor decor. This is an easy project that is finished in a couple of hours, but it has a big impact on your space.
Graphic Area Rug
Since you hung privacy curtains, make the space even more cozy with a graphic area rug. Outdoor rugs are designed to withstand all types of weather, so don't worry about it getting dirty. If dirt does get on the rug, just spray it down with your hose and put it in the sun to dry. The area rug will give the space a cozy feel while making it softer on your feet when you walk around outdoors.
String Lights
Lighting is big when creating an outdoor oasis. String lights are perfect because they are affordable and make a big impact. Find string lights that go with your decor, whether you want flower themed or traditional open bulbs, and hang them over the seating area. The lights provide illumination but they also give the space a romantic feel.
Update Your Patio
Does your patio have a defined space with tile or pavers? If not, now is the time to put them in place. Adding tile or stone pavers to your patio creates a designated space that makes the area feel more homey.

Install an Outdoor Shower
Okay, this may be one of the more expensive ones on the list, but it is worth it. If you have an outdoor spa area or pool, install a glass tile shower. Outdoor showers are as fancy or simple as you want. Go all out and create the feeling of a spa with an outdoor shower area. On the other hand, go with something simple with a shower head and a privacy screen. Either way, you will love the freedom of taking a shower outdoors.
Non-Slip Pool Tiles
Are your pool tiles extra slippery when they're wet? Replace them with non-slip pool tiles. While you still have to be careful, they are much safer when they are wet. Another nice thing about these tiles is they come in so many designs. No matter what color your pool tiles area or the theme of your outdoor decor, you are sure to find the right non-slip pool tiles to match your space.
Rain Garden
Install a rain garden as part of your landscaping. A rain garden is a low area in the landscaping that collects water. Flowering perennials and native grasses are planted in rain gardens because they are the most eco-friendly. Rain gardens are easy to install. They just take a little bit of planning and landscaping. Once you have everything, plant the garden and let it grow.
Water Feature
Whether you have a pool or not, water features are nice in outdoor spaces. A water feature can be a fountain, bird bath, column fountain, or anything else you find interesting. It doesn't have to be in a pond either. Fill the area with rocks so the water trickles down naturally without filling a pond. This is the safest option if you have children because there is no standing water.
Add Some Heat
While it is summertime, there are still chilly nights. Add some heat to your outdoor space with a natural gas fire pit. While wood fire pits are nice, they are not always allowed in the city. Furthermore, they are time consuming to get started and you have to worry about them while they burn themselves out. With a natural gas fire pit, just flip the switch to turn the fire on or off. There is no worrying about when or if the fire will go out.
Update Patio Furniture
Do you have old, discolored patio furniture sitting around? If it is still useful, give it a makeover with paint. Spray-paint your patio furniture bright colors for a vibrant look. For example, if you are going for an island feel, choose electric blue, bright orange, and calming yellow. Further update your patio furniture with outdoor cushions.
Add Natural Tables
Do you have tree stumps laying around and don't know what to do with them? Turn them into tables. Outdoor spaces always need extra places to set things, so why not use what Mother Nature gave you? Set tree stumps next to the seating area as side tables so your guests can set their drinks down. Another option is to put a collection of stumps in the middle of the seating area for a unique coffee table.
Image alt tag:
Update Your Outdoor Area
Whether you update your outdoor space with glass shower tiles, privacy curtains, or add patio pavers, you will enjoy your space much more. You'll find yourself inviting over friends and family, or just spending more time outside! Most of the updates can be done in a weekend, so get started and enjoy your outdoor space the rest of the summer.