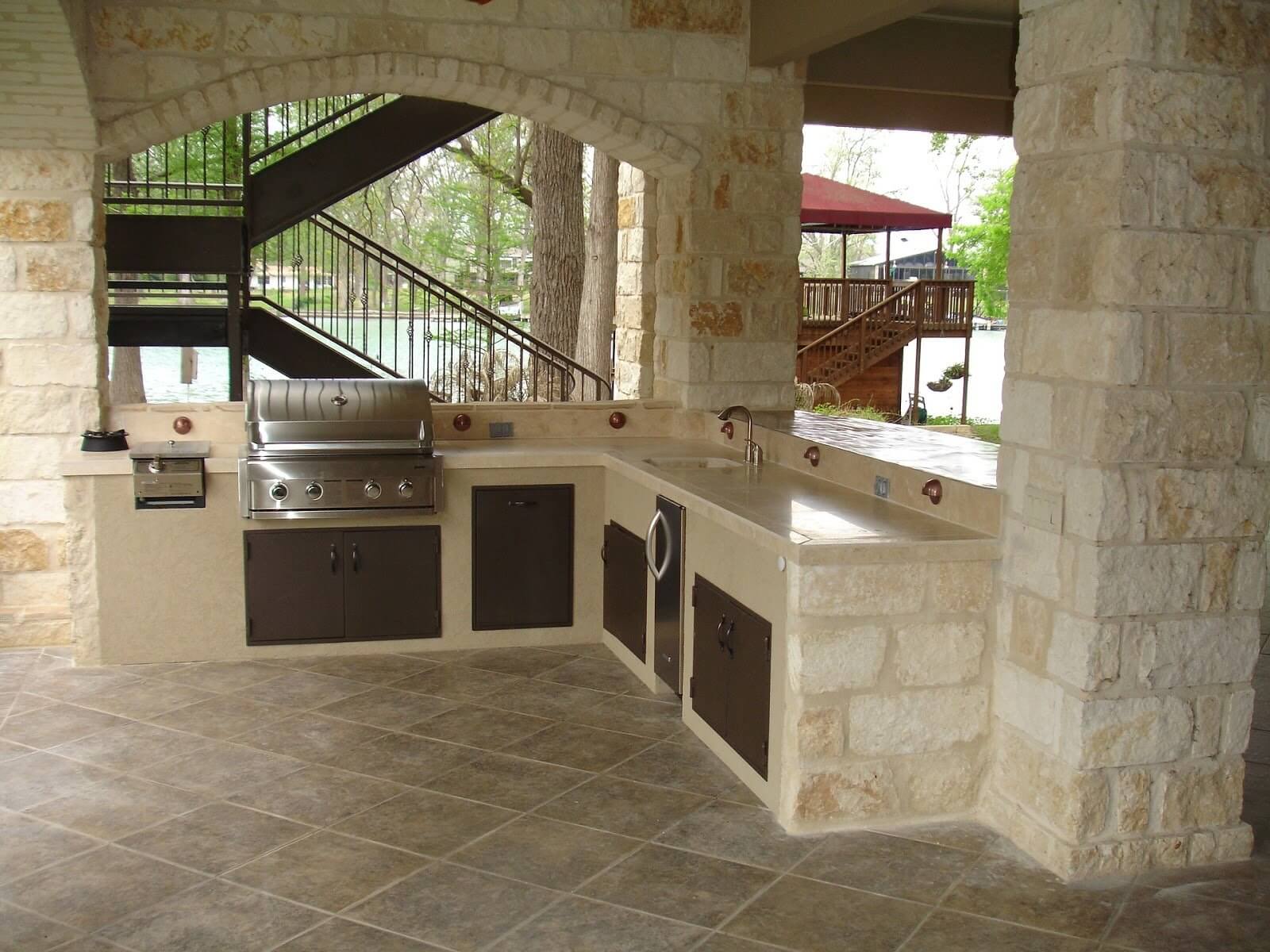 Trendy Ideas for Your Outdoor Kitchen
Summertime is here and there is nothing better than eating outside. Trees, bushes, fresh flowers, and greenery give a fantasy feel to date nights or dinner with your family. Instead of cooking inside and transferring everything outside, make it easy on yourself by installing an outdoor kitchen. Not only will an outdoor kitchen make getting together easier, but it will increase the value of your home as well.
If you've thought about creating an outdoor kitchen but don't know where to start, we're here to help you. We have what you need to get started and trendy ideas to kickstart your imagination. Read to see how you can transform your outdoor space into a kitchen oasis.
Planning Your Kitchen
The first thing you need to do is plan your kitchen. Check how much room you have outside and how you're going to use the kitchen. Are you making family meals throughout the week? Is your kitchen only for intimate gatherings? Or will you invite the whole neighborhood over for a cookout?

No matter how you decide to use your outdoor kitchen, you will need a grill. If you want to up your cooking game, add a smoker and a pizza oven. Make sure to include a bar, refrigerator, and sink for a complete kitchen.
Find the Perfect Location
Typically, your outdoor kitchen will be on the patio, deck, or somewhere else in the rear of the house. If you do have to use your indoor kitchen along with your outdoor kitchen, it is easier to bring things in and out when they are closer together.

Furthermore, your outdoor kitchen needs plumbing, electricity, and gas. If you keep your outdoor kitchen closer to your house, the utilities are hooked up easier, which is less expensive when it comes to your installation costs.
Create and the Layout and Design
Now that you have the location figured out, it is time to design your kitchen. This is the fun part. Plan the largest items first, such as the refrigerator, grill, sink, pizza oven, and countertops. Make sure you have a sheltered area for your kitchen. It doesn't all have to be covered, but if it does rain you should have somewhere to go.
Plan what type of flooring you will use. For example, you can use stone, tile, or go all natural with grass. Think about how often you will use the kitchen, the climate in your area, and what will feel comfortable under your feet.
Now you know where to start, here are some trendy ideas for your outdoor kitchen.
Wood-Fired Oven
Pizza night is every night with a wood-fired oven. When you're sick of pizza, switch things up and roast potatoes, cook casseroles, and bake cobblers. Think about how big you want your wood-fired oven based on what you want to cook. You can cook entire meals in a larger oven. If you choose a small oven, the fire can overwhelm the food.
Stone Kitchen
While mosaic tile backsplashes are eye-catching, consider using stone as well. If you want a more rustic feel and privacy, then stone is a good option. If you are unsure what stone to use, try granite because it is durable and beautiful.
Kitchen Patio
Do you already have a patio? It is a few more steps to create an outdoor kitchen since you already have a patio space. It doesn't matter how big or small your patio space is, a large or small outdoor kitchen will get a lot of use.
Grill Station
Whether you have a grill or want to buy a new one, make an area in the outdoor kitchen specifically for the grill station. If you want to keep it away from people, separate the grill with a stone wall. On the other hand, an open concept outdoor kitchen gives off a friendly, inviting feeling.
Refrigerated Drawers
If you don't have a lot of room for a traditional refrigerator, think about using refrigerated drawers instead. The drawers don't take up as much space and will keep your items cold. Use the drawers to store bottles so you always have a cold one on hand.
Tile Countertops
Have you thought about using tile for your countertops? Tile comes in many colors and designs, so you can customize the countertops to your liking. However, if you live in a cold climate, the grout may be more susceptible to cracking when the weather heats up and cools down. Make sure to choose cold-resistant materials and hire a professional to install the countertops. Add in a subway tile backsplash to complete the look.
Unique Backsplash
Create a mosaic tile backsplash as a focal point to your outdoor kitchen. If you want the sun to reflect off the tile, use glass tile. Glass tile is durable, sustainable, and reflects the sun beautifully. If glass tile isn't your style, create a backsplash with corrugated metal. The metal works well if you are going for an industrial look but still want something durable.
Kitchen Island
If you've always wanted an island inside but never had enough room, plan one in your outdoor kitchen. If you're short on room, the island can be made up of the grill and a couple of countertops on either side. If you have a lot of room, stretch your island out so you have lots of prep room and add a sink for easy cleanup.
Time to Plan Your Outdoor Kitchen
Plan your kitchen by creating the layout, design, and where it is going to go in your outdoor space. Create interesting backsplashes, functional islands, and wood-fired pizza ovens to complete the space. Use tile for your countertops or to create a patio space. The options are endless when you start using your imagination.