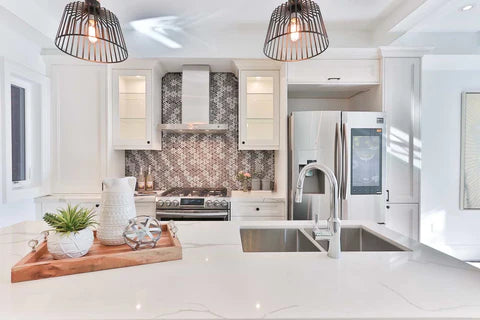 Easy To Clean Backsplash Tile Ideas
Let's be honest, cleaning your backsplash is most likely not something you want to do on a regular basis. Your life is busy enough with kids' activities, work, and other household chores. Why not make it easy on yourself? Before installing a backsplash, choose a tile that is easy to clean and low maintenance.
Often, people choose backsplash tiles based on color, style or the character they will add to the room. However, if you go on backsplash tile trends alone or if you just pick backsplash tile that pairs well with the cabinets, you may find yourself having to clean, regrout, and reseal your kitchen backsplash regularly to maintain it in good condition. For the best of both worlds, check out these easy to clean backsplash tile ideas. 
Shop Backsplash Tiles
What backsplash tile material is the easiest to clean?
There are many factors you have to consider when looking for the ideal backsplash tile. However, if you are specifically searching for backsplash tile that is easy to clean, the most important thing to consider is the material. Some of the easiest to keep clean backsplash tiles are:
Ceramic tile
Durable, perfect for kitchen wall or backsplash and affordable, ceramic tile is also lightweight and easy to clean. It comes in a wide range of colors, shapes, sizes and finishes, making ceramic a versatile tile material.
To clean ceramic backsplash tiles, go for an all-purpose cleaner that is designed to remove grease. Spray the area down and let it sit for up to 30 minutes. Wipe down the tile with a soft rag. Repeat as needed. Once you remove the grease, rinse the tile with a clean, wet rag to get rid of the residue. 
Porcelain tile
Porcelain tile is long-lasting, less porous than ceramic, stain-resistant and very easy to clean, which makes it the ideal tile type for a kitchen backsplash. It comes in many colors and can mimic the look of more expensive materials without the higher price tag. 
For example, if you love the look of marble but don't love the cost, then porcelain is an excellent option as you can find porcelain tiles designed to look just like marble. If you don't want a marble look, you can check for other texture-looking tiles like wood or natural stone.
Whether you are looking to create a unique kitchen backsplash or you are into intricate mosaic designs, you can be sure to find the right porcelain tile to match your style.
To clean porcelain tiles, use a mild cleaning solution. Wash the backsplash with the solution and hot water. Leave this on the tile for five to 10 minutes. Rinse the area clean with water and then wipe it dry.
Glass tile
Glass tile is beautiful, extremely durable and water-resistant. It's also very easy to clean and it will make your kitchen look more open, brighter, and larger because of its reflective nature. Furthermore, glass is resistant to heat so the tile will not change color, shape, or crack over the years. It's environmentally friendly as glass is a natural material and some are made from recycled glass as well.
For a natural way to clean your glass tile backsplash, use equal parts water and vinegar in a spray bottle. Spray the mixture on the tile and leave for up to 10 minutes. Wipe down with a soft cloth. Rinse the area with cold water then wipe it dry. If you don't have vinegar on hand, a non-abrasive cleaner will work as well.
Metal tile
Metal and stainless steel tiles are very easy to clean, hygienic and will last for years to come. A contemporary material, metal is perfect for modern kitchen backsplashes while it won't need lots of maintenance or care to keep looking great for longer.
To clean your metal backsplash, use a soft cloth and wipe it with a mild detergent. Avoid using acids or bleach as they can damage your metal tiles.
The Backsplash Tile Size May Affect How Easy It Is to Clean
Another thing to consider is the size of your backsplash tiles and how much grout they will need. Grout is a porous material and it needs to be sealed properly to maintain it water and stain-resistant. Bigger tiles will require less grout than smaller tiles, which means less grout to clean and reseal when the time comes. 
Shop Easy to Clean Backsplash Tiles at Oasis Tile 
Easy to clean backsplash tiles don't need to be dull or boring. At Oasis Tile, you can be sure to find the perfect tile for your kitchen renovation project. Choose from statement pieces in bold colors to timeless backsplash tiles in classic designs, available in a variety of premium materials and finishes.
Shop Backsplash Tiles