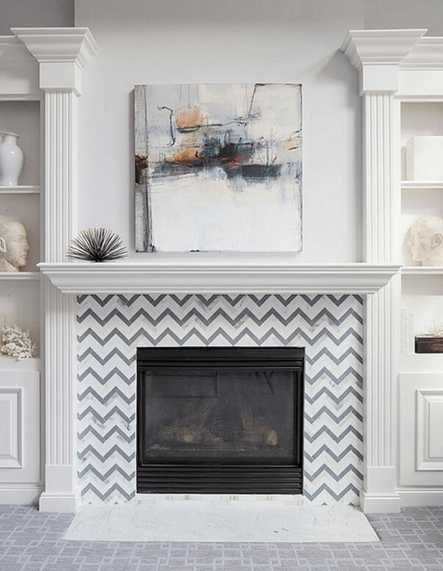 7 Stylish Fireplace Tile Ideas
Winter is upon us and it is just the right time to light up a fire. Haven't you built a fireplace yet? Maybe, that's because you were short on design ideas. But now you have a great chance to achieve your dream of a cozy and stylish fireplace in your home. Get inspired by our fireplace tile ideas, since the tile design is still among the most popular ones.
GO FOR A ZIGZAG PATTERN
Do you want to make your fireplace a real focal point of your living room or bedroom? Do you want it to look in line with the freshest trends? Good, because you can engage a fashionable chevron or herringbone pattern to tile your fireplace – based on Cersaie 2017 (the International Fair of Ceramic Tile and Bathroom Furnishings, which takes place in Italy), they are going to dominate over other popular patterns throughout 2018.
When you are looking for the most affordable tile fireplace surround ideas, this one takes a good aim, because you can embody it using simple subway tiles of one color, for example clean white or dramatic black like it is shown below.
But the idea works fine for more sophisticated designs, in particular for herringbone mosaics, both neutral and brightly colored. And don't hesitate to combine several trends in one project – look how stylish the mixture of a wooden texture and zigzag pattern looks!
DON'T BE BLUE WITH CRISP BLUE
Do you prefer brighter color schemes in your house? Or, maybe, you would like to create a spectacular colorful accent for your neutral interior? Then think about blue tile for your fireplace, since this color is still hot and offers multiple beautiful shades suited to every fancy. From dark navy to cool aqua tones, blue offers scope for contemporary fireplace tile ideas, though we are more accustomed to see it in bathrooms. But be creative! While you can get a more dramatic effect in modern interiors with the deep shades, like it is illustrated on the image above, the pastel hues are more likely to fit projects styled in classic.
As we can see, the color make even traditional square tile look vibrant within the neutral color scheme, while adding a personal touch to the project. And you can create really unique designs, when playing with patterns, as on the photo below.
Need more inspiration for blue? Then search here.
SHINE WITH GLASS
Glass tile is prized for its ability to reflect light better than other types of tile. So, why don't you take advantage of this feature in order to bring striking light effects into your fireplace project? The luminous tile, reflecting both daylight and forks of flame from your fireplace – isn't it fascinating? And you can achieve this eye-catching effect with both glass mosaic and traditional tile of any color and shape!
Sure, if you want more sparkling effects, mosaic is a better option due to its multiple facets engaged in the play of light and shadow, but it is also more costly. However, you can combine your tile around fireplace ideas with a mantelpiece made of other material to cut your costs.
LOOK NATURAL WITH TERRA-COTTA
Don't you like all this glamour and shine? Then you should search for something simple, warm and natural. And what can be more natural than terra-cotta tile – with its rough finish, earthy colors and rustic look, which is so trendy now?! Fancy terra-cotta tile comes in pastel shades, matte finishes and unusual shapes, inspiring many modern fireplace tile ideas for interiors, especially those styled in traditional way.
But you will be surprised by how stylishly this tile can be blended in with contemporary designs, adding them a unique eclectic touch.
And it is sure to be a great design for outdoor fireplaces!
Note that arabesque and hexagon shapes are among those currently in vogue for terra-cotta, while dusty pink, red and orange top the color choice. If you want to supplement your fireplace design with terra-cotta flooring, read this useful article about types and features of this tile.
MARBLE FOR RITZY LOOK
Marble tile is among our favorite fireplace stone tile ideas, since it adds chic to every interior design project, when selected tastefully. It is a perfect choice for all kinds of classic styles from antique to empire projects. However, marble tile can also look great in Art Nouveau interiors, as well as when blended into minimalism.
To make your décor unique and stylish, don't stick to much too common large-scale rectangular or square marble tiles – they show their bests in floor to ceiling projects when used in spacious premises. For minor projects, consider smaller sizes and unhackneyed shapes like those diamond-shaped marble tiles.
Also, search for alternative fireplace design ideas with tile of other colors than white and gray, for example black, pink or even green.
TILE IT WITH PEBBLES
While marble is elegant, yet big-ticket material, there is a more affordable option among natural stones – feel encouraged by these pebbles tile fireplace surround ideas! It offers you many advantages:
pebble tile adds nature-inspired texture to your fireplace design, thus creating a trendy natural look in your house;
pebbles are easily combined with many materials like wood, stone or ceramics and can be used to make both a striking contrast and stylish blend depending on your creative ideas;
the tiles come in multiple earthy colors to give you freedom for a unique design, while always having this soothing effect, which is unlikely to go stale over years.

 
MAKE A THREE-D EFFECT
Three-D effect in tiles design is well-like by many designers and architects, since it allows creating awesome focal points with only an outstanding texture. You don't need any sophisticated color schemes or ornate patterns to get a desirable wow-effect – just choose a three-D tile design to match your interior style and deliver your distinctive statement. With the current abundance of volumetric tile collections, it is easy to find a unique solution for your living room or bedroom among those spectacular waves, folds and asymmetrical profiles. When you need to blend the texture into a classic design, just choose softer lines and shapes.