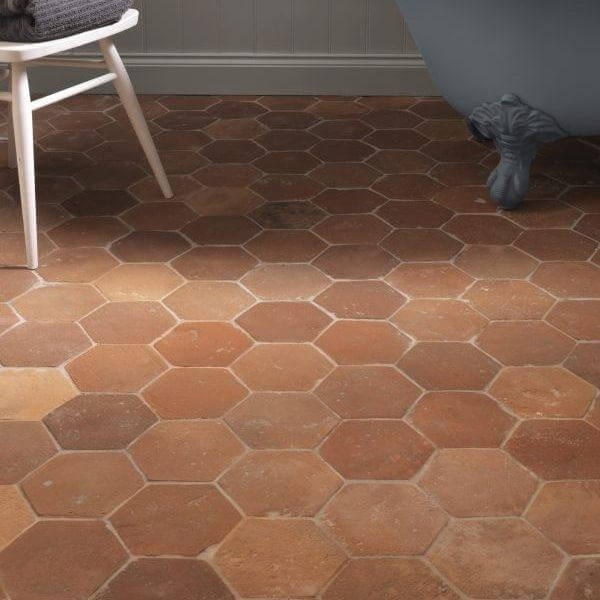 Terracotta Tile Usage Ideas
Terracotta tile is one of our favorite flooring options, especially when it comes to country styles. It is hard and strong and durable, and so it can provide you with everlasting floor covering, while its rough and worn-out texture is just perfect for creating storied interiors. As the texture is coupled with natural earthy hues, the tile adds necessary warm touch and rich pops of color to comply with rustic design (if you doubt which elements go well with this style, read these helpful designers' tips).
Sure, in modern projects we can find terracotta backsplash tile, clay tile for facing fireplaces and other thrilling applications, but this doesn't negate the fact that traditionally terracotta is most frequently used for flooring. However, with modern terracotta floor tile we don't need to be too closed minded, even when implementing projects in traditional styles. So, forget about those all-too-familiar square and subway tiles and go for something fresh and sophisticated in shapes.
BUILD HONEYCOMBS
Start with hexagon tile. It creates a lovely active pattern, while varying hues of reddish color throughout the installation add vibrant flare – that's what we love terracotta tile for.
Look how great the shape works for smoothing straight lines and corners of the premise, making the space more juicy and arresting.
Though it is a little bit difficult to lay hexs because of their intricate shape, you can facilitate the task by using the tile for creating a focal point, while framing it with tiles of simpler shapes. It is a great idea for all kinds of zoning and here is one of the good examples to be inspired by.
As you can see, today's hexagon tile can come with or without glaze to match various applications from "wet" kitchen and bathroom areas (the stain-resistant glaze is preferred) to less demanding living rooms, as well as to blend with many interior décor styles. You can also explore various size options to get the desired "wow" effect.
If you have never tiled anything and you are afraid that hexagons are too intricate for your DIY project, then get some help from experienced do-it-yourselfers.
DRAW SOME INSPIRATION FROM MOROCCAN STYLE
Star and Cross terracotta tile is an easy way to make a statement – the elaborate pattern works great with the rough texture, giving the installation more exquisite look. It is available in multiple hues, from light and blurry to dark and rich, to suit all possible needs.
By experimenting with shades of grout, you can achieve even wider scope of effects, making the pattern more popping or smoothed out. Here you can see the difference between the flooring tiled to immediately catch the eye and the covering created just to add to the interior design.
You can enjoy the more expressive play of colors by blending a contrasting color combination into this intricate Star and Cross pattern – the more so because some brands offer a great choice of colors and shades for their terra cotta tile collections.
And sure, the rule formulated for hex tile is also applicable to this Star and Cross design – use it whenever you want to perform zoning or create a stunning focal point, as it is shown below.
ADD CABOCHONS
Almost any terracotta tile can look dramatically different when coupled with contrasting inserts. Yes, even clean and simple design of square tiles compels attention with these nice little cabochons scattered throughout your floor. Certainly, they shouldn't be actually spread across the floor here and there – you need to carefully plan your layout if you want to add a stunning twist to your flooring.
By the way, have you already selected hexagon tiles for your project? Not yet? Then maybe you will think of an octagonal option? Octagon tile is no less piquant and unusual, while it offers the ocean of ideas about blending with inserts. The most frequent pattern is cabochons tiled at the corners of octagons, thus providing integral covering with beautiful color accents.
However, other patterns are also possible – look what a fanciful design you can get just by changing the tiling direction.
And sure, nothing can prevent you from choosing inserts of other shapes than square. How do you like this triangle alternative coupled with octagon tile in the photo below?
And your flooring may look completely different if diamond-shaped inserts are engaged into the project. Note that both options allow creating vibrant active patterns to jazz up any space.
Here you may want to ask why all these cabochons are unicolored. Should it always be this way? Not at all! Moreover, you can get an awesome effect, when selecting colorful inserts to be mixed with your one-color tile. Authentic Mexican terracotta tile often comes with amazing hand-painted cabochons, splashing in bright colors – you can choose some to blend with your tile style perfectly. If you want to find out how Mexican tile differs from other designs and whether it is suitable for your project, have a glance at these tips from pros.
Back to our design options, you can go even further and combine your terracotta tile with inserts of another style and texture. For example, with this lovely white and blue version – this looks more like the Mediterranean style and strikes the eye with its distinctive color scheme and pattern set on the background of neutral tiles.
ENJOY AN ARABESQUE PATTERN
Arabesque tile projects look very decorative and really unique due to somewhat exotic and elaborate scheme they bring into any interior design. Arabesque tile alone can make your home space look rich and antique, while its curvy lines add both homey and natural touch, transforming the whole space around. When this exquisite shape is coupled with a rustic terra cotta tile texture, you may expect your project to excel.
The more so that arabesque tile often comes with an array of shapes and colors to allow unleashing your creativity. In particular, you can combine tiles of different sizes to create a more dynamic pattern like it is illustrated in the photo below.
However, you are free to go another way – make a clear statement by carefully selecting a bunch of complementing colors and putting them together in order to create a unique and arresting color scheme.