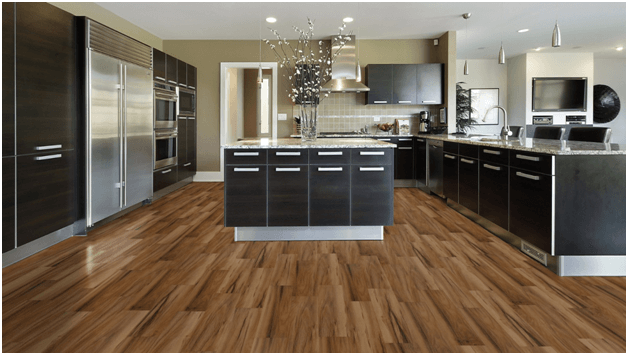 What is a Rectified Tile and Should I Buy It?
If you have already found that perfect tiles you want to use in your home, the only thing left to do is actually laying the surface. Sooner or later, you will encounter the question of rectified vs. non-rectified tiles, and finding the answer might be a bit confusing.
So what is a rectified tile? And should you buy it instead of ordinary tiles? Read on to explore the answers.
WHAT IS A RECTIFIED TILE?
Ceramic, porcelain and wood tiles are all produced in rectified and non-rectified versions. Almost every manufacturer offers at least some variety of rectified tiles. To make a long story short, these are tiles that underwent specific processing to get very neat, clear and precise edges. This processing is performed by machines so all dimensions are strictly followed which results in tiles that share the same size.
Rectified edge tile allows for better symmetrical patterns and good looks. Also, they help to achieve very thin, neat and perfectly straight grout lines, and that makes the overall look stunning. For example, rectified wood tiles create a very realistic illusion of a real wooden floor, a parquet board or a solid wooden surface and so will be a perfect choice for the rustic decor fans.
Another benefit of rectified edge tiles is that, due to their precise dimensions, they will not shrink as might be the case with non-rectified tiles. Besides, rectified porcelain tiles and rectified wood tiles are very easy to clean since the grout lines are very thin and less dust penetrates them.
Rectified tiles often have some thin protective layer on the top edge because the edges are very sharp. For this reason, you should not use them to tile the outward edges, so no one gets hurt. In this case, you might want to replace rectified tiles with bullnose tiles which are softer at the edges.
The minimal size of rectified edge tiles is 300mm x 300mm. The edges are usually square and have a 90-degree angle. To find out if the tile is rectified, look up in the specification sheet.
SHOULD I BUY RECTIFIED EDGE TILES?
This will depend on your preferences and budget but here are some typical situations where rectified tiles are the best choice.
YOU WANT VERY THIN AND CLEAN GROUT LINES
This is actually the main reason one would buy rectified tiles. Because the edges are perfectly processed, they fit much closer than non-rectified tiles do. This is especially needed if you are using polished tiles (thick grout lines for these will look awful).
YOU ARE USING LARGE TILES
If you are laying tiles larger than 15 or 16 inches, rectified tiles are a better option to go for.
YOU ARE USING FIRED TILES
Rectified edge tiles are only fire tiles. Natural stones like travertine, marble or granite are not offered in a rectified version. In fact, they are already rectified since they were previously cut off from a larger block.
IMPORTANT PREREQUISITES TOWARDS USING RECTIFIED EDGE TILE
Rectified edge tiles, be it rectified porcelain tile or rectified wood tile, will not be suitable for all types of surfaces. It is worth considering such factors as:
the need for a perfectly flat and even surface;
any defects of the surface;
dynamic surface (which might sag eventually);
high complexity of the forthcoming tiling work.
If the surface is dynamic and significant fluctuations in microclimatic conditions are present, thinner grout lines can become a serious drawback. They allow less space if the material is moving due to the climatic changes and can ruin the entire work.
In addition, if the surface is not perfectly straight, laying rectified porcelain tiles is next to impossible.
ARE RECTIFIED EDGE TILES EXPENSIVE?
Rectified porcelain tile and rectified wood tile usually cost more than the usual ones. Plus, you may need professional help in laying them because the technique is quite complicated. Also, depending on the width of the grout line you are after, however thin, you might need some additional or special adhesive solutions.
3 MM VS 1,5 MM
When planning your renovation, consider that rectified porcelain tile and rectified wood tile alike allow for 3 mm and 1,5 mm grout line. 1,5 mm is the thinnest you can get. However, if you hire someone to take care of the tiling work, specify this in advance as most companies go for 3 mm by default.
RECTIFIED EDGE TILES: INSTALLATION TIPS
If your design involves a symmetrical pattern, you should start tiling from the middle of the room. It is recommended to pull the string along the line of symmetry.
The adhesive is applied to a small area, then spread across the surface evenly. It is necessary to make sure that no bubbles emerge as you proceed.
The surface covered with the adhesive is further evened with a notched trowel.
Unless you use 1,5 mm grout line, the distance between each tile must be 3 mm.
Once the area is tiled, let it sit for three to four days so everything is properly secured. This applies to both rectified porcelain tile and rectified wood tile.
Carefully choose the color of the grout. Your choice will be determined by two factors: 1) the color of the rectified porcelain tile and rectified wood tile and 2) the width of the grout. As a rule, experts recommend using the grey grout.
For the subsequent cleaning of the rectified edge tiles, a usual wet cleaning works well. Polished and semi-polished models of rectified porcelain tiles and rectified wood tiles require a special water-repellent solution to prevent pores.
IN CONCLUSION
If you want a stylish design of the surface and are ready to pay more, rectified edge tile would be a perfect solution. It has a modern, stylish look and creates that stunning monolithic impression that can transform any space.