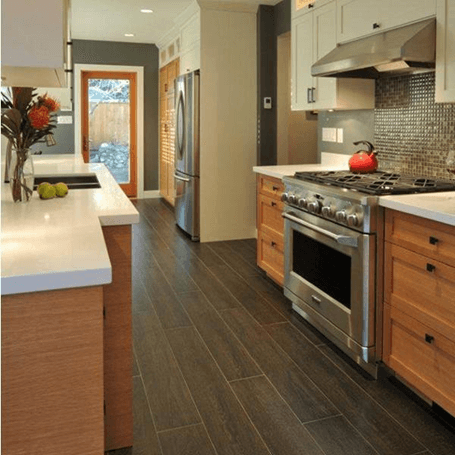 5 Ideas for Wood Look Tile Usage
Many online design sites, like this or that one, believe that wood look tile is one of the hottest trends for 2018. However, some customers are too accustomed to the traditional use of timber and tile, and therefore they can find it difficult to imagine where and how they can apply this unusual mix of ceramic features and woody textures. But in fact, you can create stunning effects and implement outstanding projects by involving this relatively new, but very trendy material. And we are ready to give you a few tips on how to take advantage of it.
KITCHEN FLOORING
Let's start with one simple question – why use wood look tile instead of covering your floors with real wood? The first thing that springs to mind is the price. Natural wood flooring is rather expensive, while tile comes with a much nicer price tag. But this is not the only benefit of wood look floor tile. Hardwood is high-maintenance – it requires caring attitude, doesn't like water and variations in temperature and cannot be cleaned with aggressive household chemicals, which complicates the daily care when it comes to stubborn grease spots. But usually we have an abundance of all these factors in our kitchens! So, if you want to add this precious touch of natural warmth into your kitchen design, yet you are not ready to risk costly hardwood, then tile floors that look like wood is your best choice.
Wood like flooring looks gorgeous when combined with kitchen cabinetry featuring wooden texture, but it is not a must. You can achieve an eye-catching effect by supplementing your simply-designed cabinetry with the beautiful organic-inspired tile.
By the way, there is no need to spend hours, searching for wood like tile of a matching color – use the diversity of tile color schemes for a striking contrast and unique touch.
And don't forget about gray wood look tile – it is a great option for creating stylish kitchen interiors full of clean lines, light and air.
BATHROOM PROJECTS
Bathroom seems to be an unwanted place for hardwood finishes, since they are very sensitive to high humidity. But don't you want to make your bathroom a little bit more relaxing, warm and organic than common ceramic tile usually allows? Wood look tile grants much space for your creativity, blending perfectly with traditional bathroom ceramic, glass and metal textures. So, you can start with adding only one wood-covered surface, making it an exciting focal point and unique feature of your project. Will it be flooring? Not necessarily. What about this wood look tile bathroom with the spectacular accent wall that goes over the ceiling?
Do you think this interior looks rather unexpectedly? Not at all! Look at your shower design with a fresh eye – isn't it boring? Maybe, you can bring some style into it by choosing a creatively different color and texture for its feature wall. Just one little change and your entire project plays out in fresh colors.
But the real bomb is throughout tiling – it is trendy, elegant, distinctive and charming.
You may prefer light and neutral color schemes, since they work fine for both large and small premises, but if you are daring enough and want crisper design in your bathroom, you can try darker shades of wood in your project.
FUNCTIONAL ZONING
Flooring should remind you of zoning, since a combination of different floor coverings suits perfectly for separating various functional zones without any other dividers. And as wood look porcelain tile can be stylishly mixed with many popular flooring materials, zoning is a great area for its application.
But how to blend it in? As we have already learnt, wood look tile flooring works fine in heavy-load zones, and so it makes sense to use it there instead of more expensive and exacting coverings. For example, you can combine wood look ceramic tile in your kitchen with hardwood in your living-room, as it is shown below – the durable material is for the working area, while the all-natural timber is for the recreation space.
In "wet" zones wood look tile can be supplemented by other moisture-resistant coverings, like vinyl flooring, natural stones or other types of tile – you just need to choose which of them will create a focal point and which of them will be better off as a background.
You can go even further, creating accents and dividing spaces by combining different floor coverings and different tiling patterns.
If you need more inspiration for awesome zoning with various materials, take a look at images here.
ELEGANT STAIRS
Wooden staircase in a house is quite a luxury, but due to wood look tile you can a kind of pretend that you have one – without spending big bucks! Build your staircase from any material that fits your budget and then wrap the stair steps in a showy woody grain choosing from a great many shades and textures available on the market. Even simply-designed stairways will look stylish and rich with such a covering!
But you can go into even greater extremes by blending your wood look tile with other materials for facing in order to create a unique and very personal project. There are some lovely examples of mixing different tile styles for making a clear statement within the staircase designs.
You can't but agree that using wood look tile is a great idea for renovation, and here you can learn some useful DIY tips on how to tile your stairs. However, make sure to choose tiles with non-slip features, as staircases pose some risks of collapsing down the steps.
EXOTIC BACKSPLASHES
Yes, tile is our favorite backsplash material, while natural wood is definitely not. But doesn't this kitchen backsplash look dramatic, stylish and extraordinary, especially when combining the woody texture and on-trend worn-out effect? And it really doesn't matter whether it is supplemented with other wooden décor or not – the statement is made. You can give preference to neutral tile designs, but keep in mind that the rustic chic is in demand.
And what about you bathroom backsplash? Doesn't it need renovation? Maybe the following exquisite projects will inspire you to give wood look tile a chance!