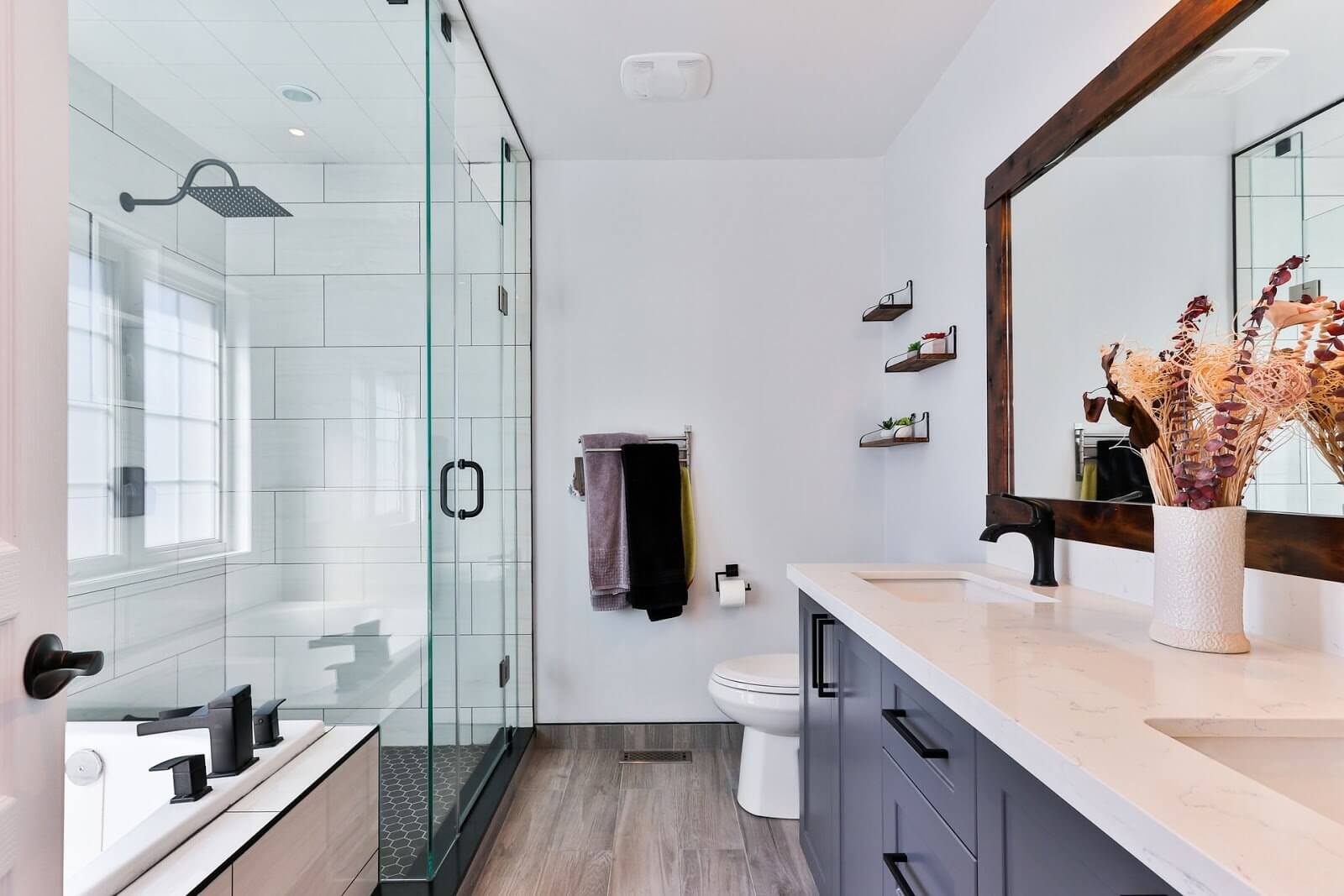 Should You DIY Your Bathroom Remodel?
Are you thinking of doing your bathroom remodel yourself? You might want to think about hiring a professional unless you have the experience to tackle the project. Still thinking about doing it on your own? Read the pros and cons of doing your own bathroom remodel.
Pros and Cons of DIY Bathroom Remodel
As with anything, you should weigh the pros and cons before starting a big project.
Cost
Are you trying to save money on your bathroom remodel? It is no secret that hiring a professional costs more. The average bathroom remodel costs between $9,00 and $11,000. Sometimes remodels can cost as high as $23,000 if you go for a high-end remodel. If you do it yourself you can save money and keep the cost down.
However, if you don't have experience you may end up paying someone to fix your mistakes. There is a reason remodels are expensive. It is because you are paying for their expertise, time, and the convenience of someone doing the hard work for you. Another alternative would be doing some of the work yourself and hiring a general contractor for the rest of the work, especially if you have never done electrical or plumbing before.
Knowledge of the Building Code
Do you know the building codes in your area? Do you have time to figure them out? If your project is replacing a toilet, you may not need to look up the code. However, if your project is more complicated you may need a building permit.
Professionals understand how to get a permit, how to meet the building code, and pass inspection. Hiring a professional might make it easier in the long run when it comes to dealing with the process of learning or understanding the local building code.
Choosing Materials
Do you know what materials are waterproof or which cabinets are the best for the bathroom? It will take some research on your part if you are going to DIY your bathroom remodel. If you have never installed tile before, you may not have the correct tools or how to actually install it. It might take more than watching a video to learn how to install more complicated bathroom projects, such as a glass tile shower.
Plumbers, builders, and bathroom designers know what to look for when buying materials. They know which counters, vanities, faucets, and tiles are perfect for the look you are going for. Professionals are more familiar with the material types and what will last longer in a bathroom.
Demolition
Demolishing your bathroom could save you money, but it could also cost you a lot of money if you make a mistake. The cost of demolition is usually calculated per square foot and ranges between $5 to $15. Demolition includes the following things:
Removing the toilet

Turning off the water main valve

Removing the P-trap of each sink drain

Unscrewing and taking out the shower pipe

Taking out the drywall and insulation
The list is not all-inclusive. Demolition is very involved. It is not swinging a sledgehammer and hoping for the best. The reason many people do it themselves is they think destroying things will be fun, which is true. However, it is important to know what you are doing to avoid electrical wires, pipes, and structural pieces in the walls.
Biggest Mistakes People Make During DIY Bathroom Remodels
If you do decide to DIY your bathroom remodel, watch out for these mistakes people make. They are some of the most common mistakes and you don't want them to ruin your remodel, especially if you are trying to save money.
Wrong Timeline
Bathroom remodels take a lot of time and are intensive. Sometimes there are delays that are out of your control or the contractor's control. Since the bathroom is the room where the most problems arise when doing a remodel, it takes longer than a couple weeks. In fact, the average bathroom remodel takes between 20 to 30 working days.
Not Waterproofing Properly
The bathroom is expected to get wet. You have a bathtub, sink, shower, and toilet in there. If you don't waterproof the area properly then you may experience mold, mildew, and structural damage. This can also cause an increase in termites and higher utility bills.
If you have never waterproofed a bathroom before, you will need to hire a professional. It is hard to properly waterproof a bathroom if you don't have experience remodeling bathrooms. The waterproofing curing times differ between products and the waterproofing membrane must be compatible with both the substrate and adhesive.
Asbestos
If your house was built before 1984 then there is a higher chance of finding asbestos. Asbestos can be found in ceilings, under flooring, or in the walls. If you do happen to find asbestos while remodeling your bathroom, you need to contact a licensed expert to handle the removal. Do not attempt to remove asbestos on your own.
Placing Your Fixtures in the Wrong Place
Do you have your layout right? Whether you are pulling out fixtures and putting new ones in their place or redesigning the whole bathroom, it is important to know where the fixtures are going to go.
If you do decide to move things around, make sure to take the appropriate measurements. You don't want to finish your bathroom remodel and find there isn't enough space to open the doors or when the doors do open they hit the toilet.
DIY or Pay a Professional?
While DIY for your bathroom remodel may save you some money, it may not save you from headaches and mistakes. If you don't have any experience remodeling bathrooms or tackling large projects, such as properly laying
bath tiles
, then it is best to hire professionals. If you have worked on remodels in the past and feel pretty confident about your skills then you might try certain parts of your project yourself.