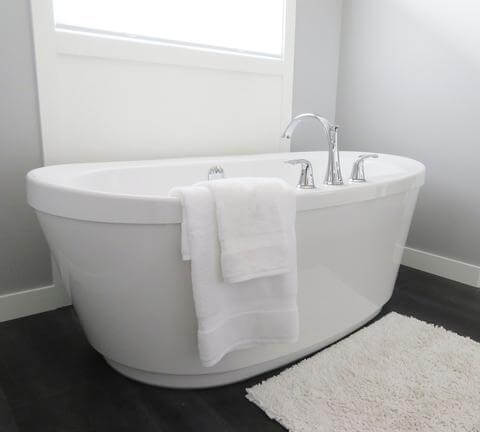 Easy Ways to Update Your Bathroom on a Budget
Are you thinking about updating your bathroom? Does it seem like a big, expensive job? Are you unsure of where to start? We have some easy ways you can update your bathroom without breaking the bank. These ideas take just a few hours and require very little expertise.
First, think about why you want to update your bathroom. When you have a solid goal in mind, it will make the decision process easier when it comes to decorating, choosing accents, and deciding what is the best tile to use.
Reasons to Update Your Bathroom
The bathroom is the most important room in your home. You use your bathroom every day and it is a room your guests frequently visit. If you decide to sell your house later, the bathroom can make or break the sale. The bathroom often gives guests a first impression of your house so make it count.
Increase in Home Value
When you decide to sell your home, chances are you can get most of that money back. Midrange renovations tend to recoup 67.2% of their costs. If you do an upscale renovation, you could recoup up to 60.2% of your costs.
Improve Energy Efficiency
Installing an eco-friendly showerhead and faucet are a good start when it comes to energy-efficiency. You can also install LED or CFL lights to save money on electricity as well. Check your ventilation fan to see when it was installed because chances are it should be replaced to increase efficiency. When doing a bathroom remodel, make sure to use energy-efficient products for long-term savings.
Fix a Plumbing Issue
Sometimes a disastrous plumbing issue causes you to redo your bathroom. While it may seem overwhelming at the moment, it is a blessing in disguise. Now you can choose exactly how you want your bathroom to look. Tear out the floor and put in unique bath tiles and consider installing a glass tile shower for a modern look.
Accommodation for Yourself or a Relative
If you or a family member are having a hard time getting around, now is a good time to update your bathroom. Some simple accommodations include adding rails, installing a curbless shower, and widening doors so a wheelchair can easily get through. These changes are also a good idea if you plan on taking care of an elderly family member.
Cosmetic Issues
A few simple cosmetic changes can freshen up a bathroom. Even if yours is not outdated, there are some things you can do to give your bathroom a new look. Think about painting the room a different color, replace the tile, or replace the shower curtain.
Just Because You Can
Maybe you want to update your bathroom just because you can and that is fine too. You don't need to have a solid reason to give your bathroom a makeover. Just have an idea what you want out of your bathroom so you know what decisions need to be made design-wise.
Ways to Update Your Bathroom
Choose one, two, or a few of the ways to update your bathroom. Even changing just the fixtures or accents will give the bathroom a newer feel. 
Coordinate Accents
Create a color palette and find accents within that palette. Often accessories are put in the bathroom because they are supposed to be there but they really don't add to the aesthetic. When you work with a palette, it is easier to choose accents that will stand out.
Update the Tile 
You don't have to tile your entire bathroom all at once. Choose to redo a shower, a backsplash, or the flooring. If that is too much, regrout the current tile. New grout can give new life to older tiles by making it look cleaner and sharper. If you do decide to replace some time, work off the palette for your future bathroom. That way, you can slowly create the bathroom of your dreams without spending the money all at once.
Repurpose Storage
If you don't have enough storage in your bathroom it will seem cluttered and small. Update your storage by repurposing wooden crates, a stylish toilet paper holder, or a freshly painted cabinet. 
Add a Fresh Coat of Paint
Paint is the easiest way to give your bathroom a fresh look. Paint is budget-friendly and there are a variety of options when it comes to colors. Keep in mind that painting a bathroom will take longer than other rooms in your home. Even if you have a smaller bathroom, you need to go slow around the shower, sink, mirror, switches, floor, and other things in your bathroom. Plan a little extra time so you can take care, go slow, and have an elegant finished look.
Since you are painting the bathroom, you need paint that is resistant to mold and mildew. Choose paint with a satin finish and is high in quality. While you are working with a budget, splurge a little with the paint so it stays looking newer for many years to come.
Update the Fixtures
Sink faucets, light fixtures, drawer pulls, and towel racks are just some of the fixtures you can update easily. You may need a plumber when it comes to sink faucets and shower faucets, but the others can easily be done in a short time. You will be surprised how much updating the fixtures will change the look of the bathroom.
Shower Storage
What does the shower storage in your shower look like? Are things strewn everywhere? Update your storage to make your shower tidier. It will also be easier to clean.
Give Your Bathroom New Life
Just a few updates can breathe new life into your bathroom. Most of these can be done over the weekend and don't take a lot of expertise. In the end, you will appreciate the new look of your bathroom.