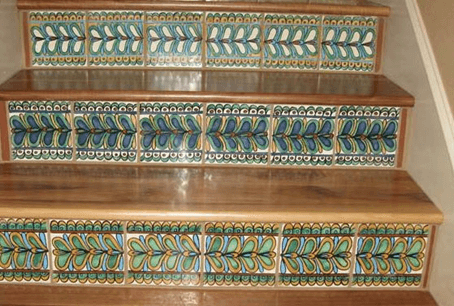 6 Tile Stairs Ideas to Follow in 2018
When your imagination pictures perfect staircase in your nice and neat home, what is the material you think of in the first place? Wood? Again? Your choice is easy to understand, but it can hardly be called unhackneyed. However, we have some wonderful tile-on-stairs ideas for you that will help take a fresh look at the design of stairs – and make them look one-of-a-kind!
JAZZ UP WITH COLOR!
Don't you find all those uniform designs a little bit boring? We mean, yes, this looks very nice when both treads and rises are styled in one color and made of one material, but it is rather predictable and by no means eye-catching. Don't you want something more arresting? Then enjoy this tile stairs splashing with colors and patterns!
It looks like time-honored wood stairs, but the risers coated with custom Mexican tile make the design unique, crisp and dynamic. If you are daring enough to be inspired by this contrasting idea, choose vintage, patchwork or encaustic tile for your project, since they work fine with both wood and stone treads.
Sure, you should tile each riser with different tiles to make a strong statement, but make sure that they match each other in style, pattern or color, while being in line with the design of your treads.
However, don't be discouraged if the idea is too bold for your current interior – you can switch it to your outdoor project. Look, how jazzy it can be!
ELEGANT BLEND
Ok, you are right, bold design is not for everyone and you may want something more traditional and versatile, yet unhackneyed. Then what about tiling your risers with monochromatic ceramics of a color complementing your treads? Here is a nice example of how beautifully wood grain pattern works with subway tile of a neutral color.
You can add some modern touch to your project by choosing tiles of trendy design, for example, from a three-dimensional collection, like it is shown below:
It strikes the eye with its active pattern and relief effect, while juicing up the simple and clean design of the treads. But go easy on a combination of textured ceramics and wood – a distinctive grain pattern can be out of tune. A surefire way to create an elegant blend is to choose tiles of a neutral color with a light pattern that lays emphasis on treads.
MOSAIC ART
Mosaic tile on stairs? This is a great idea! Obviously, mosaic is not intended for use in tread design, since it is not wear-resisting enough and comes with a hefty price tag. However, mosaic tile is just the thing for riser applications, filling your staircase project with color, texture, gloss or whatever you like – this depends on the mosaic you choose. For example, in the picture below we can enjoy a coastal look added trough the awesome aqua blue tile.
You can also embody the idea into your interior design, while experimenting with darker hues.
But mosaic risers hit the mark when coupled with natural stone treads, too. Moreover, their sharp pattern can make a stone design more vibrant, when it comes to light-colored slabs.
And what about some shine? Don't you want your stairs to look really glamorous? Then choose from the following iridescent tile and metal tile on stairs ideas.
ENVIRONMENTAL FEEL
Green design is trending, and what can be eco-friendlier then pebbles? You can bring them from your beach vacation, but there are plenty of ready-made solutions available on the market to save you the trouble of collecting them. A popular option comes as mosaic tile, where pebbles are mounted on a mesh. They are available in many designs – with pebbles scattered or stacked, unicolored or in combinations of colors, not to mention various shapes and sizes. They look great with many staircase materials, especially with timber – and the following photos prove this convincingly.
Playing with patterns and colors, you can achieve different effects to match your interior design and make your project unique. However, we'd like to focus your attention on a striking vertical pattern, which creates a fascinating focal point due to its unusual layout.
If you are not sure how to handle pebble mosaic tile, watch this helpful video – it is very likely to inspire you to initiate a renovation project.
TILE WITH WOOD
Probably, you have already come to the conclusion that tile is good only for coating risers. But you are absolutely wrong! When it comes to covering treads, ceramic tile on stairs are among the most popular options along with timber and natural stone (though a step behind them). Actually, in terms of performance, ceramic tile is even better than natural wood, since it features higher moisture resistance. So you can combine the best qualities of both materials and tile your stairs with ceramics that look like timber. Luckily for you, many manufacturers offer wood grain tile and it is in the fashion right now. Look how stylish it is and try to distinguish it from natural timber!
Sure, you don't need to stick to this top-to-bottom wood look design – sometimes, woody texture is more visible against the clean and simple background.
On the other hand, you can choose something more dramatic, mixing materials, colors and patterns within one wood grain project.
GO GORGEOUS
Marble, granite, slate, travertine – they look admirably, they can last forever and they are always in vogue. What can be better that durable material with an abundance of textures and hues to choose from? Will you be surprised to know that stone tiles are among our favorite tile on stairs ideas? This is a more affordable and easier to install option compared to natural stone slabs, but the tile is in no way inferior to them in its beauty.
Don't hesitate to search for new blends of colors and materials, if the above illustrated uniform designs are too clichéd for you. Stone tile goes well together with wood and is suitable for both tread and riser applications.
Note that natural stones differ in their features, some of them being critical in stairs applications (for example, slipperiness). By reading this article, you can learn more about their pros and cons, as well as compare with other tile types.