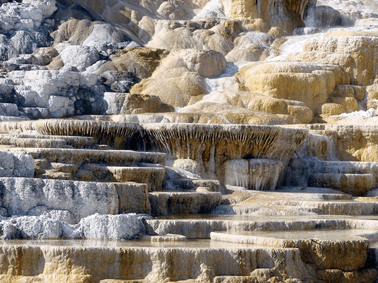 Travertine Tile Pros and Cons
Do you know that the world-famous Coliseum in Rome is build of travertine? In fact, the façade of the Papal Basilica of St. Peter in the Vatican is also made of this stone. From there, we can say that this stone is at least beautiful, strong and durable enough to be used in the construction of such majestic buildings. But can we say the same about modern home decoration materials made of travertine? Well, let's delve into travertine tile pros and cons in order to figure out whether it is worth using it in our projects, and if yes, then in which ones.
WHAT IS TRAVERTINE TILE?
Obviously, we need to start from the very beginning – travertine is a natural stone, which is a sort of limestone formed as the result of calcium carbonate precipitation in carbonated springs, including hot springs. It is also deposited from ground waters in caves, forming stalactites and stalagmites. Depending on the origin, the stone comes in a wide variety of hues like grey, light-yellow, coral red, beige, brown and other light earthy shades. It features a spongy surface, but it can have less pitted holes, if it is formed in standing bodies of waters, or even come with a smooth finish, if polished during a tile manufacturing process.
The stone is borrowed from quarries and then cut into blocks that can be used as building material. But oftener, the blocks are cut further into slices to make tiles - they are sanded to gain a uniform thickness and then polished or processed in some other way to get a desired finish. Here you can find some interesting details and videos about travertine tile manufacturing.
There is an abundance of travertine tile finishes, such as honed, tumbled, brushed, polished and much more. As the result, some of stone tiles come with more rustic and grainy look, while others feature smooth and glossy design similar to traditional ceramic tile appearance. Note that a tile finish type is not only about the look, but also about its maintenance, since more porous materials tend to be also more absorbing. But we are going to discuss this in the following paragraphs.
TRAVERTINE TILE PROS
Now, when we have found out how this stone is formed and how the tile is manufactured, we can mark out its key advantages:
While made of porous stone, travertine tile is a relatively light weight material that allows for easy transportation and installation compared to more weighty natural stone options like marble or granite. Moreover, due to the lightweight it is great for various installations where you need to avoid extra load on a base.
Being softer than other natural stone products, these tiles are easy to cut and polished, which comes in handy in DIY projects. You can get a necessary shape by means turned out to be at hand or to cut your travertine tile into pieces when you need to make your customized

 

mosaics.
Should we remind you about durability? The Coliseum, which is almost 2000 years old, is the best proof that travertine is durable and wear-resisting material. However, you should keep in mind that durability of your travertine tile depends on the finish type, too.
Eco-friendliness and safety are also advantages the tile boasts, since no dangerous chemicals are used in its manufacturing. Besides, it is fire-proof – along with the safety, this expands its application to fireplace installations.
Due to its high and low-temperature resistance, travertine tile can be used in outdoor projects, and travertine pavers are often seen in patios and pool applications, driveways and walk-ways projects, as well as outside fireplaces and stairs designs.
Travertine floor tile is great for its non-slip feature, since its pitted surface remains rather rough even when polished.
Also, don't think that the tile absorbs water only because the stone looks spongy. In fact, its holes are closed, and thus it is moisture-resistant.
The good news is that with travertine tile you can add to your sound and thermal insulation, since its porosity and low density contributes to these features.
The tiles come in many beautiful hues and unique patterns within a soft palette of earthy colors, so you have plenty of options to choose from. With this, there is always the charm of natural stone seen distinctively in its troughs and veins. Though not showy, travertine tile is elegant decoration material, boasting a timeless look and adding to resale value.
This is one of the most affordable options among natural stone tiles, especially when purchased with natural finish. However, some type of finishes or sealing makes it more costly.
If you want to learn more about travertine compared to other natural stones, have a look here.
TRAVERTINE TILE CONS
In spite of its multiple benefits, travertine tile is not free from shortcomings and the following are among them:
The porous texture of travertine makes it absorb grease and colored substances rather quickly – they leave frustrating stains on the surface, which is difficult to clean. For this reason, the tile is not recommended for countertops, where oil or coffee can be easily spilled, and it is better to choose a travertine tile backsplash for bathroom rather than for kitchen application.
Because of its calcium origin, the tile is sensitive to acids, including vinegar, сіtric acid, etc. Some of them are often used in cooking, while others are ingredients of household chemicals. This makes the material high-maintenance, since you cannot use aggressive detergents for stain removal. If you add this to what has been said in the previous paragraph, you need to protect the surface from colored and aggressive substances and clean it as soon as something is spilled. Another way out is sealing after the tile installation – this protects the tile from damages, yet adds to its price tag.
Travertine tile is available only in neutral shades, which are not as crisp as other wall and floor coverings can offer. It works fine for interiors styled in soft colors, but some people can find its palette a little bit boring. However, you are free to blend bold accents into a travertine color scheme, the more so because it is easily combined with many shades.