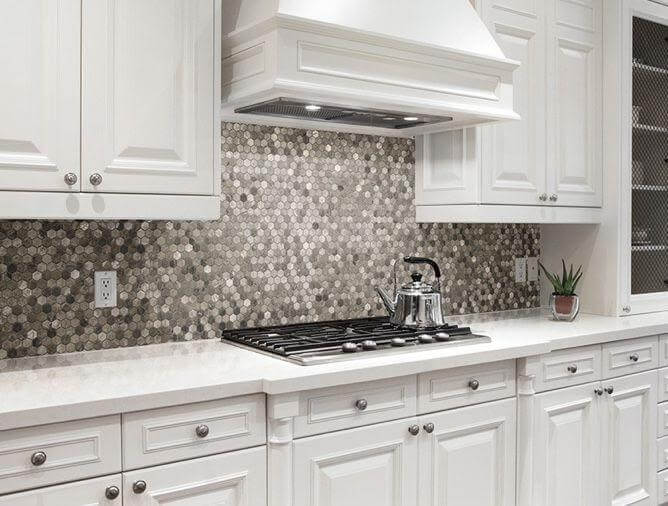 What Do Homeowners Love About Kitchen Backsplash Tiles
Kitchen tiles often play a large role in defining the kitchen's identity. Therefore, it's essential to select attractive, high-quality kitchen tiles. Backsplashes, for example, should be made of luxurious kitchen backsplash tile because you view these frequently while cooking. Kitchen tiles are not only attractive but durable too, ensuring your kitchen stays warm, inviting, and enjoyable for many years to come!
If you're interested in learning more about the current trends and styles homeowners are considering before selecting and installing premium kitchen tiles, the following sections are for you!
Stylish Mother of Pearl Tiles
These tiles are both timeless and appealing. Featuring compact squares, these glossy white mosaic tiles can make a striking impact on your kitchen. They're great for contemporary kitchens because of their conventional shape. Mother of Pearl tiles are great for homeowners who want to bring aspects of the beach and ocean into their home.
These stylish tiles come in many variations, so it's best to consider multiple options before selecting and installing one. It's great to shop online for Mother of Pearl Tiles as there are many online retailers carrying all the popular tile variations.
Versatile and Attractive Mosaic Tiles
As it was said earlier, backsplashes are important in kitchens because they're frequently viewed for a plurality of reasons. They're also important because they protect the walls.
When it comes to selecting tiles for kitchen backsplashes, most homeowners shop with looks in mind. Because these backsplashes are seen frequently, it's nice to be always looking at something attractive. It's this thinking which impels many homeowners to purchase beautiful tiles, the kinds that are ideal for creating a mosaic tile backsplash.
These backsplashes often resemble traditional brick design, but they combine glass features to give them a look that's truly unique. A mosaic tile backsplash can show home visitors just how creative you really are!
Tiles That Increase Home Value
While visual appeal is definitely an important characteristic to keep in mind when shopping for kitchen tiles, it's just as important to look for high-quality tiles that are sure to last you a very long time. When shopping for tiles, there are some important points you'll want to keep in mind:
Know how the tiles were manufactured and who made them.

Know your requirements, for this will help you prevent costly mistakes.

If you're ordering online, make sure you view images several times before purchasing a product.
Where to Go for the Best Premium Kitchen Backsplash Tiles
While it's true that most tile shopping conducted in the past was done in brick-and-mortar stores, today it's much easier to buy high-quality tiles online. We here at Oasis Tile know that homeowners are always after the best bang for their buck, and such is why we offer premium attractive tiles for affordable prices. Our wide selection is preferred because it helps homeowners pursue their creative tile-design plans.
Get in touch with us now and find out how we can turn your kitchen into an enjoyable paradise with stylish kitchen backsplash tile.