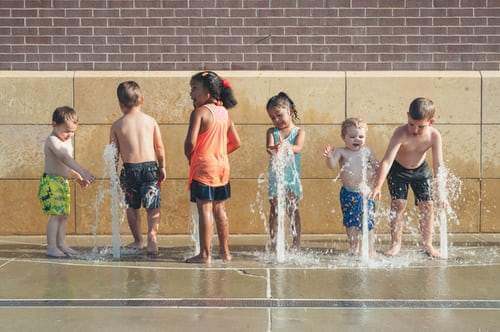 Ways to Use Tiles to Create Water Features in Your Backyard
Adding a water feature in your backyard can create a calm oasis. Nothing is more calming than listening to the sounds of bubbling water while relaxing in the sun. If you are thinking about adding a water feature into your backyard, there are a few things you should know. 
First, we will go through the different types of water features. Next, we will go through things to think when it comes to tile and designing your water feature.
Types of Water Features
Water features come in many different options. From smaller deck jets to cascading waterfalls. Each feature has its own benefits when adding it to your backyard design.
Fountains
Fountains come in all shapes and sizes. Not only are they beautiful, but they provide a natural sound barrier to the outside world. If you want to keep the noise out, choose a large fountain in the middle of your pool. 
Fountains also keep your pool cooler during the hot months. They also keep pool water circulating, distribute chemicals, and help with the overall health of your pool.
Waterfalls
Who doesn't love swimming underneath waterfalls? Waterfalls add a certain ambiance to the atmosphere, such as a touch of elegance. They also help water circulate through your pool and keep the neighborhood noise out. 
Waterfalls can be a bit pricey to install, and there is additional maintenance to keep it maintained. Remember to think about how much time you want to devote to maintenance because the more elaborate the design, the more time spent on maintenance. 
Bubblers
Bubblers are smaller fountains that sit in the shallow part of the pool. They add atmosphere to your pool and create a calming water sound. LED light features can make bubblers stand out during the day and night. 
Infinity Walls
If your backyard has a nice view, consider installing an infinity pool. An infinity pool is created when the pool wall height is the same as the water level. The water overflows into the reservoir below and creates the illusion of a never-ending pool. Infinity walls are one of the more popular water feature options. 
Spillovers
Spillovers connect a smaller hot tub to a larger pool. These create a spa-like feeling in your backyard. The water from the spillover helps to keep your pool clean and regulates the temperature.
Deck Jets
Deck jets shoot out streams of water and are placed on the edge of the pool. The water streams are adjustable to different heights. Water constantly flowing into the pool helps the pool clean. Besides keeping the pool clean, deck jets are fun to play in — both for kids and adults. Most jets are customizable, so you can change the angle, height, and temperature of the water.
Things to Think About When Adding Water Features 
Now that you have an idea of the type of water feature you want, it is time to narrow down the details. Think about the color, pattern, shape, and size of the tile that will go into making your water feature.
Choose the Color
Color is the first thing to consider. Ceramic pool tiles come in almost every color imaginable, so it is a bit overwhelming at first. However, look at your current outdoor aesthetic to give you some ideas. Do you have a more natural look? Do you need a pop of color? Do you want the colors to blend in or stand out?
Lighter colors are ideal if you are adding a feature to an existing pool because lighter colors blend in. Light-colored tiles also tend to be more natural-looking and complement the environment. 
If a dramatic look is more your style, choose tiles that are darker in color. Some good examples are intense blues or deep teals. These colors will stand out against the more natural background for an eye-catching look.   
Add a Pattern
Patterns create a focal point, which is done by choosing a mosaic tile or using solid color tiles to create a pattern. For example, create a pattern of bright blues and teals underneath a waterfall with swimming pool tiles. When the sun hits the water and bounces off the tiles it will create a glowing effect.
Another ideal use of patterns is to create boundaries. Create a boundary around your pool, water feature, or walkways. Patterned boundaries help people stay on track and keep them from falling in the pool.
Size of the Tiles
Next, think about the size of the tiles to create the feature. Tiles come in all sizes, so you have many options at this point. If you are designing a large water feature, then use larger tiles. Smaller tiles can be added to the water feature to create an interesting pattern, but overall, if the water feature is larger than the tiles should be large.
Smaller tiles are a better option for smaller spaces. Use smaller tiles to create a mosaic effect that bounces off the sunlight. Some ideal spots to use small tiles include in a hot tub or around the border of deck jets.
The Shape of the Tiles
Just like sizes, tiles come in many different shapes as well. Choose from classic designs such as rectangles or squares. Mix it up with natural-looking tiles that don't have a specific shape. Classic and natural can be combined by using mosaic tiles in the middle of a natural water feature to create an interesting focal point. 
Light it Up
Last, but not least, install LED lights. These come in bright, vivid colors that will make your water features stand out. LED lights can be installed underneath your waterfall to illuminate the water as it falls over the edge. They can also be placed around the edge of the pool to highlight pool tiles at night.
Many Options for Water Features
As you can see, tiles provide many options when creating water features. Choose the right tile to create a relaxing ambiance in your backyard.