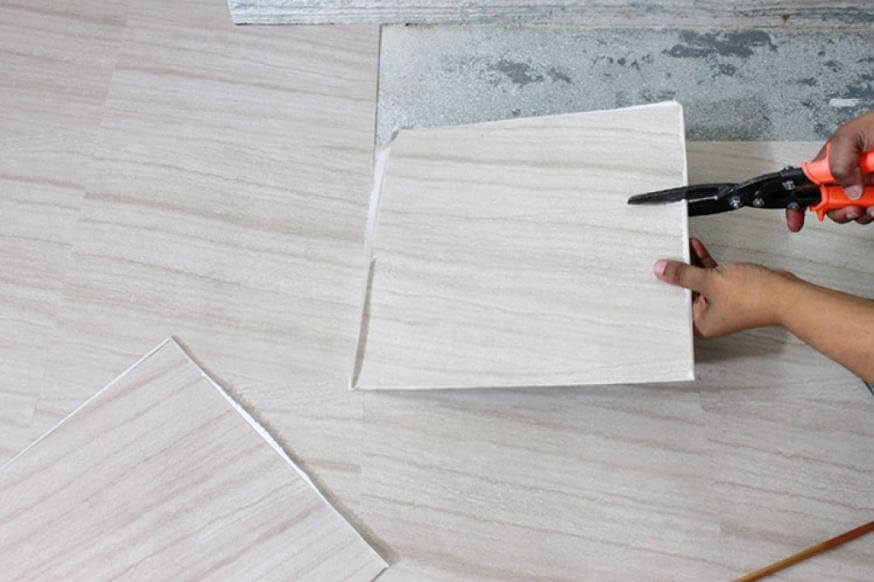 Peel and Stick Tiles: Ideal Décor with Your Own Hands
WHAT IS PEEL AND STICK TILE?
Actually, peel and stick or self-adhesive tile can be seen as a wide range of home decoration materials made of vinyl, metal, glass, fiber, gel or even wood. All of them have a common feature, which is a sticky back – some kind of bottom covered with adhesive and protected by a paper layer. However, peel and stick tiles are usually meant as finishing materials made of vinyl or, more specifically, PVC. They became widely used in both residential and commercial applications as flooring, wall finishing and decorative coating for multiple interior items.
In fact, vinyl decoration materials come in a form of tiles (usually squares or rectangles) or planks. The latter option is mainly used as flooring, while vinyl tiles boast much wider application – from backsplashes to furniture renovation. Their composition varies depending on the manufacturer, but basically, peel and stick tiles consist of several layers:
sticky bottom
PVC or PVC plus quartz base (the latter is denser and more durable)
film with a printed pattern (this is exactly the layer that creates the style of tiles)
transparent protective film (some tiles feature an additional polyurethane layer giving them stain and scratch resistance).
Obviously, this PVC tile is loved by do-it-yourselfers for its mess-free installation. You don't need any muddy mortar and dusty grout – just pull off its protective paper layer and stick the tile to a surface you want to decorate. However, peel and stick tiles boast other benefits, though the material is not without disadvantages.
SELF-ADHESIVE TILE PROS AND CONS
Let's start with some pleasant things:
It is cheap, and this is not limited to the affordable price of the tile. Due to its peel and stick design, you don't need to purchase any additional materials and tools for its installation, as well as you don't need to pay for professional installation since it is easy to lay by yourself.
It comes in a rich variety of colors, patterns and textures, and some of the designs are really good in mimicking wood, stone or ceramics. There are plenty of unique designer collections on the market, whose decorative qualities successfully compete with far more expensive materials.
Vinyl tile is moister-resistant and can replace laminate or timber in wet areas, especially when it comes to flooring. You can use peel and stick

 

tiles for bathroom

 

or kitchen, and you can definitely avail of it in backsplash applications.
Since the tile is not sensitive to moister, it is easy to clean with wet cloth. Besides, its smooth and non-porous texture prevents dirt from sticking to its surface.
Vinyl tile has quite good sound-proofing qualities and it doesn't produce that echoing effect specific for laminate flooring. It is also warm to the touch compared to ceramics, which is rather cool to walk on in cold months.
Well, so much for the advantages, let's move to peel and stick tiles downsides:
Vinyl tile is sensitive to the smoothness of base surface, and this is vital for flooring. Prior to the installation, it is necessary to ensure a perfectly flat subfloor, since soft and flexible material tends to reveal any ups and downs and it can wear through over time.
Sometimes, adhesives used for peel and stick tiles are not durable enough and the edges of tiles start peeling off when in use.
The cheaper vinyl tiles are, the faster they lose the initial look. The surface wears, gradually losing its pattern, and fades in the sun. Besides, as the surface is comparatively soft, it is rather easy to damage the tiles with sharp objects or to get unaesthetic indentations from heavy furniture.
It is not an environmentally friendly choice, as PVC can contain potentially harmful additives like phthalates and can produce toxic combustion emissions.
Many people believe that thin peel and stick tiles lack this vibrant depth real

 

ceramic tiles

 

boast. Again, cheap vinyl tile looks too cheap, while distinctive design and high quality come with a less competitive price tag.
Nevertheless, peel and stick tiles are still a great option for rented homes and fast renovations when you have neither time nor desire to tinker away with all that mortar mess. And here are some inspiring ideas on how you can create perfect décor with your own hands.
FLOORING ON THE WALL
Indeed, it sounds like a crazy idea, but look what a wonderful accent wall you may get just by choosing vinyl wood-look planks, usually employed in floor applications. Due to their peel and stick design, they are easy to install even on the walls, though in this project they are also used as intended – to cover the floor while creating the eye-catching transition. Moreover, the project offers one more peel and stick tip you can learn about by watching the video.
FAUX MOSAIC
Do you dream of a cozy and stylish fireplace in your living room? We have great news for you! Peel and stick tiles for fireplace will add the desired elegant look to your project with this lovely mosaic design. And no mess!
FURNITURE RENOVATION
When your furniture looks too dull, old-fashioned or well-worn, you have a nice chance to breathe a new life into it by tiling with beautiful peel and stick vinyl pieces like it is shown in the photo. Make sure to choose thin and flexible tiles, which fit in with furniture applications.
CUT, PEEL AND STICK
The great advantage of vinyl tile is that it can be cut with a utility knife. Why would you cut it? Obviously, to create a whole new design for your unique project! This vibrant flooring is made from different tiles (one is all black and the other is white), which were cut diagonally and then put together in an unexpected way to arrest attention. Sure, you can experiment with both color schemes and patterns, some of which you can find here.
UPDATED BACKSPLASH
When considering peel and stick tiles for kitchen , don't narrow your options only to flooring. The tiles are perfect for decorating backsplashes, the more so since wall applications don't have severe requirements to the smoothness of surface as when the tile is used for floor covering. You can stick the tiles over your existing ceramic tiles if they have smooth and clean surface.