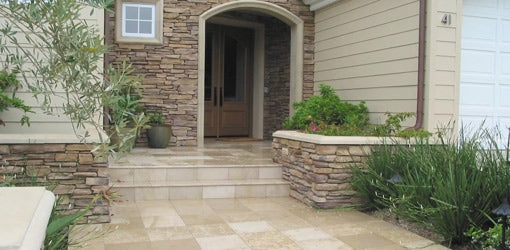 Everything You Should Know About Choosing Ceramic Tiles
Actually, design, color or size are not the things to start with. With such an abundance of tile collections on the market, you are sure to find a suitable design within the right type. So, where are you going to lay your tile? Certain types are designed for particular applications and have corresponding features.
EXTERIOR PROJECTS
Outdoor applications require weatherproof tile, which won't fade under the sun or crack because of temperature fluctuations.
However, the choice depends on your local climate – when living in California, you don't need frost-resistant tile, but you should search for a snowball mark on tile packages, if living in Washington, DC. If heavy precipitation is specific for your area, give preference to tiles with a porosity of less than 0.5%, as they can endure a greater number of freeze-thaw cycles. Anyway, don't choose tiles that absorb moisture at rates higher than 3% for your exterior installations.
Since the use in exterior projects implies heavier traffic, you need stronger and more durable tiles compared with those for indoor applications. Focus on wear ratings and choose tiles with grades 4 or 5, which are highly wear-resistant. When the non-slippery surface is required, opt for tiles with a coefficient of friction higher than 0.6%, as they can ensure a really good grip.
INTERIOR PROJECTS
Tile for indoor applications is less demanding but still requires careful selection depending on the use – whether you are going to tile your floors or walls. Tile for flooring is more abrasive-resistant and durable than wall tile, but it is also thicker and weightier. Hence, usually, you can use floor tiles for wall installations but not vice versa since wall tiles placed on the floor will tear and wear by leaps and bounds. However, this rule is applicable only to those wall installations, where tile weight is not a critical factor. If your mounting base is flimsy, it won't be able to hold heavy floor tile, especially when it comes to large-scale pieces.
As for flooring, you can rely on the Porcelain Enamel Institute rating and choose tiles with a grade 3-4 for heavy-loaded areas, while grade 2 is suitable for most home applications with the average traffic. Still, the PEI rating doesn't cover all the products on the market, and often you should search for manufacturer's specifications as to recommended areas of application.
POOL APPLICATION
One can think that any tiles, which are good for bathrooms and showers, work fine for swimming pools, too. But this is far from the truth. The fact is that unlike bathroom tile, pool tile contacts with heavily treated water, which can make the finish of tiles to crack easier. Besides, many outdoor pools are exposed to temperature fluctuations up to freezing temperatures. And what will we get when water penetrates through the cracked finish and then starts to heat up and cool down? It tears the tile from inside!
That's why pool tile has to be impervious or vitreous with an absorption rate of 3% or less. This means that the tile will absorb a minimum of water if its glaze is somehow damaged. And that's why tile manufacturers usually produce specific collections of tiles for pool applications, which also feature a stronger finish in addition to their low-absorption. The tiles are covered with a glaze that can resist acid and alkaline environment, don't fade under sunlight and has dirt-resistant features to facilitate the maintenance.
SPECIFIC FEATURES
Well, now you know the basic differences of tiles for various applications, but still, you can be embarrassed with the selection since there are some additional features to focus on.
For example, both interior and exterior tile can be glazed or unglazed. The second type comes without a coat of liquefied glass on the surface, and thus it is more porous and resistant to mechanical factors, while less slippery. Coupled with a rustic feel of clay surfaces, these features make unglazed tiles a common choice for many outdoor applications like paving or decking.
By contrast, glazed tile is non-porous, stain-resistant and moisture-impermeable, and thus applicable in wet and dirty areas as the bathroom or backsplash tile. However, the glazed surface doesn't have to be slippery or prone to mechanic damage. Slip-resistant options are designed for flooring in potentially dangerous areas like stairs, foyers or entrance halls. When searching for the tile to decorate your kitchen countertop, ask for scratch-resistant pieces – they ensure mechanical durability.
Also, keep in mind the process of production, since the properties and applications of ceramic and porcelain tiles depend on this, too (no, these are not different names for the same tile type!).