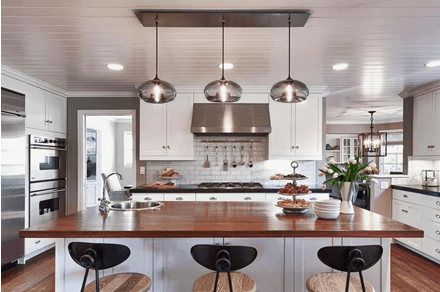 4 Things You'll Find in Modern Kitchens
The kitchen is often the most important room in the home because it is used frequently for a variety of reasons. Of course bedrooms and bathrooms are essential too, but kitchens are special in that they often serve as centers from which overall home atmospheres are created. If your kitchen is comforting, inviting, and adorned with personal touches, these positive qualities will naturally disperse throughout the rest of your home.
Modern kitchens include many amenities, appliances, and fixtures to make task completion quick, simple, and safe. For example, kitchen backsplash tile is used to protect interior walls from splatters and spills that often occur around sinks, stoves, and food preparation areas. Kitchen tile is preferred by modern homeowners because it's eye-catching, durable, and, most importantly, great at protecting those surfaces you don't want stained or damaged.
If you're interested in learning more about what's included in a modern kitchen, read on!
Artistic Elements
Modern homeowners are embracing their creative and artistic sides, and such explains why today's kitchens are as visually appealing as they are useful. Customization is key, for a unique kitchen is great at generating positive moods and emotions. Consider these artistic elements:
Panel the area around your stove with vibrant, colorful panels.

Swap out typical cupboard doors for visually appealing accent doors.

Create a beautiful

subway tile backsplash

using high-quality tiles.

Paint walls bright colors to make the space pop.
Eco-Friendly Appliances
If you care about the environment as much as you care about cooking, then it will be in your best interest to invest in eco-friendly appliances. You can get energy-efficient dishwashers and sinks, and these are great because they use less water than traditional appliances. There are also environmentally sound flooring options that you can use instead of traditional wood flooring, and these alternatives can conserve heat and in effect lower energy bills. Consider installing lights on a timer, that way you're never wasting light energy in the kitchen.
First-Rate Storage
Don't forget about kitchen storage solutions. If you're someone who's shopping for a large family, or someone who's looking to downsize, it's essential that you have kitchen storage solutions on hand. These ensure that food stays fresh and utensils are always in one easily locatable spot. You can even get storage solutions to match your mosaic tile backsplash, and these are preferred by homeowners who insist on keeping home décor consistent.
High-Quality Lighting
Installing high-quality lighting over counters and food preparation areas is essential, especially for ensuring safety. It's true that recessed lighting is popular in modern kitchens, but many homeowners are now using wall-mounted lamps to create old-school feelings in their kitchens.
Where to Get Premium Tile for a Unique Kitchen Backsplash
If you've been looking for premium kitchen backsplash tile, visit Oasis Tile! We specialize in providing premium tiles to both DIYers and professional contractors. Make your kitchen a modern masterpiece with help from us!