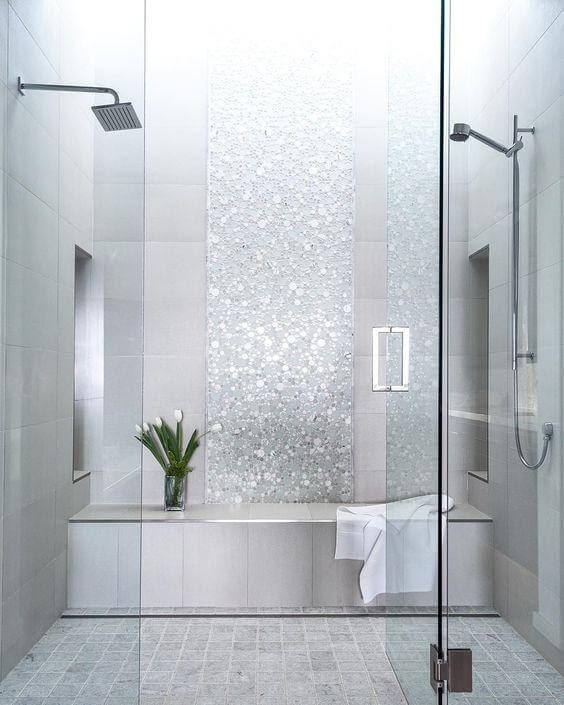 Reality Check: Are Glass Tile Showers Dangerous?
Glass tile showers are exquisitely attractive and aesthetically appealing. Perhaps this is why glass tiles primarily tend to attract people.
However, it is quite common to see people choosing tiles for the shower purely on the basis of aesthetics. While we do believe that the choice of patterns, colors and sizes does impact the design you envision for your space, it is however, more essential to look at other critical factors too.
For example, do you think glass tile showers would guarantee safety and non-slippage for the users? Are you choice of tiles going to be durable and resistant to water-damage etc.? The point is that regardless of what you choose, it is essential to weigh all safety factors before you purchase tiles for your showers.
Glass Tile Shower- Things to Consider
Glass tile showers certainly have a high visual appeal, in addition to making one's bathroom look bigger and shinier. The stain-resistant and low maintenance qualities tend to make it a primary choice for many homeowners but we do believe it is important to pay attention to some safety factors too.
1. Makes Surface more Slippery
For those who have senior family members especially, it is important to note the slippery factor of glass tiles. Glass tiles tend to get more slippery when they're wet and this can be a significant tripping hazard. One cannot consider installing glass tiles on the floor where old family members or even young children will be using it.
It is not an uncommon fact that glass tiles can feel colder underneath our feet and hands, in comparison to ceramic and porcelain. This is why glass tiles are a big safety problem for shower floors specifically. You will note why interior designers generally discourage against the idea of using larger glass tiles on shower floors due to this reason.
If you do install glass tiles in your shower, it is absolutely imperative to choose the smaller mosaic variety. You must also ensure that they have a matte finish so that the extra grouts lines while provide a firmer grip for the feet.
If you fail to take this necessary precaution, the surface of your glass tiles will be extra slippery each time someone uses the shower. Another important precautionary measure one must always take is applying slip-resistant sealant over the shower floor. This too will make the floor safer for users.
Secondly, glass tiles are more susceptible to breakage. Hence, apart from the added repair costs that you might have to incur often, you will also find broken glass tiles another safety hazard. You can't possibly consider being safe treading on glass tiles that might be broken in places.
If you believe that your shower will not suffer much traffic then you may consider using it safely. Only for the busy and high-traffic showers, one may have to reconsider their choice or take extra precautions for potential menaces.
2. More Footprint and Fingerprint Reflections
There is no denying the unbeatable shine and uniqueness of glass shower tiles. However, this same quality can also be a bit of problem because the shiny surface tends to reflect the footprints and fingerprints more prominently.
Duller surfaces tend to conceal those but since glass is anything but a dull material, it makes prints stand out more clearly. Hence, you may have to clean your shower more frequently just so the glass tiles remain spotless and blemish free.
Glass is also a hard substance but at the same time, it can also suffer scratches. Glass is one of the prime locations for grit and dirt to accumulate and the scratches occur due to these resultantly. However, regular cleaning again will protect the glass tiles from suffering any ungainly scratches.
Glass Tile Showers- Should you install them?
It all comes down to your priorities, preferences and visions in terms of decoration for your bathroom. The decision also largely depends on where you wish to place your glass tiles. There is no doubt that glass tiles do define and visually intensify the dimensions and depth of a space.
But a better idea is to keep them away from your shower floor to remove safety hazards. If you take all precautions necessary, then there's a good chance that glass tiles might be an excellent choice for shower tiles.
Let's take a look at some of the positive aspects of glass tile showers.
1. Creates Illusion of more Space
We commonly see interior designers and homeowners using glass tiles strategically for smaller bathrooms. Do you know why? The answer is because glass tends to create the illusion of more space.
If you're looking to enhance the visual appeal of your bathroom and make it look bigger than it really is, you should install glass tiles. Besides making the shower look more spacious, it will also brighten up the place more.
You will also find more dimensions to your shower by installing glass tiles on the walls. We know how glass throws light reflections while appearing more translucent and helping one see through the surface. This quality too broadens the dimension and adds more depth to the space.
2. Easy to Maintain 
One of the most appealing qualities perhaps of glass is that one does not need to exert too much effort to clean and maintain it. Up keeping and maintaining the optimal condition of glass is also not expensive.
By installing glass tiles in your shower, you will find several DIY cleaning solutions will suffice in keeping them in pristine condition. Take the example of equal parts vinegar and water. These simple home ingredients to make your glass tiles look brand new, spotless and beaming again.
Final Thoughts
Glass shower tiles are first on the list of many homeowners when designing their showers. From add a contemporary yet classic look to enhancing the look, feel, depth and dimensions of a space, glass tiles are multi-functional.
The only downside of installing glass tiles on the floor is how they can turn slippery when wet and become a safety hazard for the household members. However, with the all the protective solutions at one's disposal, it is possible to increase the safety level of glass tiles in your shower.