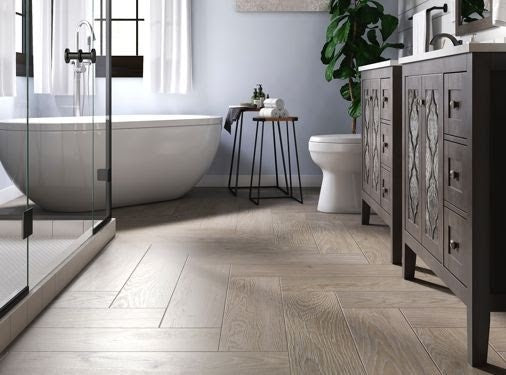 Where Homeowners and Business Owners Are Using Tiles
When one enters a house in 2020, they're sure to see tiles being used in some way, and this is largely because tiles have been a reliable surface material for many years. Many homeowners and business owners prefer tiles, not only for reliability but because they're visually appealing as well, and this latter quality makes them applicable in a variety of at-home locations and commercial business settings. Whether you're purchasing pool tile for kitchen tile, you can't go wrong!
In short, those who want a reliable surface material often choose tile, for it's durable, eye-catching, customizable, and reliable. In the sections below, the experts from Oasis Tile are going to talk more about tile applications that have stood the test of time as well as why tiles are still so widely preferred today. Let's begin!
Tiles Can Provide Lifetime Durability
When you're making improvements to your home, it's important to consider what's a solid investment; you should also consider what will add the most value to your
home. Using materials that'll last a long time is an essential move, especially if you plan to live in your home for many years to come. It's tile that gives the most bang for one's buck, and this lifetime-lasting surfacing material is not only durable but easy-to-maintain and affordable as well. Most tiles are made from extremely durable materials, and kitchen backsplash tile, for example, is specifically heavy-duty as it's meant to endure years of spills and contact with high heat. These tiles are highly resistant to scratches, chips, and general wear and tear, and when compared to either hardwood or carpeting, tile is far superior; hardwood surfaces and carpeting wear over time, and when they do they start to look bad. If you need to replace tiles here and there, these minor jobs are still less money than cleaning carpets consistently or restoring hardwood floors so they retain their inevitably fading appeal.
Tiles Are Used in Kitchens for a Variety of Reasons
Maintaining a home so that things always look clean and tidy can be a challenge. Here's where reliable tiles come in! Additionally, tiles that are designed for kitchen
use are especially preferred nowadays, as more and more individuals are learning why time spent in the kitchen is good for the human soul. When your kitchen is filled with high-quality tiles, you'll not only ensure the space is competent but also get to immerse yourself in the atmosphere that's created by your warm and welcoming tiles.
Kitchen backsplash tile, for example, is some of the most popular tile being bought these days, and this is usually installed around ovens and sinks to prevent inner walls from getting damaged by splashes and/or splatters. Kitchen backsplash tile, while being both visually appealing and long-lasting, is not a budget-busting kitchen surfacing material, and one can purchase this tile online for an affordable price. Like bath tiles and tiles for pools, kitchen tile is customizable and built to last. Protect your walls from high oven heat with kitchen backsplash tile!
Tile Is Great in Home Spaces That Require Low Maintenance
Keeping up with maintenance so your home or business looks new and clean can be a challenge. Thankfully, porcelain and ceramic tiles are some of the easiest surface materials to maintain. Unlike carpets that require lengthy cleaning processes or hardwood floors which are known to be difficult to maintain, with tile all you'll need is a mop and some warm water to commence cleaning! Simply wipe away any dust or debris that has accumulated through daily use and the tiles will look good as new again. Even fine Mother of Pearl tile is easily maintainable if you do so regularly.
Why Individuals Purchase High-Quality Ceramic Pool Tile
Ceramic tile is preferred by modern homeowners because it can be applied in a variety of rooms, including kitchens, bathrooms, and living rooms. Ceramic pool tile can also be used outside with swimming pools and other popular backyard fixtures. Some home decor experts say that tile is the only material that can be used in every room a home has, but others dispute the legitimacy of this claim. In short, everyone agrees tiles are ideal!
Ceramic tiles are also durable, and this is why they're used in showers, mud rooms, and other rooms that get used frequently. Tiles, like bath tiles for example, can also be non-slip, and this is very important for homeowners who have young children, pets, and elderly adults walking around. A tile installer must acknowledge, however, that tile can be cold and hard on mornings when temperatures are low, and it's also true that DIY tile installation is not that easy to pull off without professional knowledge and expertise. But overall, tiles are preferred by the vast plurality of homeowners because they're elegant, long-lasting, eye-catching, safe, and affordable if purchased from a reliable online distributor.
Visually Appealing Mother of Pearl Tile Goes Great in Bathrooms
Mother of Pearl Tiles are both timeless and appealing. Featuring compact squares, these glossy white mosaic tiles can make a striking impact on your
 kitchen or bathroom. They're great for contemporary kitchens and bathrooms because of their conventional shape. Mother of Pearl tiles are ideal for homeowners who want to bring aspects of the beach and ocean into their home. These stylish tiles come in many variations, so it's best to consider multiple options before selecting and installing one. It's great to shop online for Mother of Pearl Tiles as there are many online retailers carrying all the popular tile variations.
Tiles Go Great in Homes and Businesses Where Cutting Costs Is a High Priority
Tile is the least expensive floor covering, and this is largely because of its large lifespan. The costs of carpet cleanings, wood floor refinishing, and laminate refurbishments will add up over time, but the low maintenance and durability of tile make it an optimal choice for any room in one's home. While visual appeal is definitely an important characteristic to keep in mind when shopping for kitchen tiles, bath tiles, and pool tiles, it's just as important to look for high-quality tiles that are sure to last you a very long time. When shopping for tiles, there are some important points you'll want to keep in mind: Know how the tiles were manufactured and who made them; know your requirements, for this will help you prevent costly mistakes; if you're ordering online, make sure you view images several times before purchasing a product.
Where to Go When You Need to Purchase High-Quality Tiles Online
No online tile seller has a wider selection than Oasis Tile, and our commitment to high-quality service is what's made us a leading online tile seller for years. Get in touch with us via phone, email, or through our website so you can discuss your unique needs and requirements with a tile expert. We'd love to add you to our always-growing list of satisfied customers. Selecting the perfect tiles for a home has never been easier. Shop with Oasis Tile now and save!