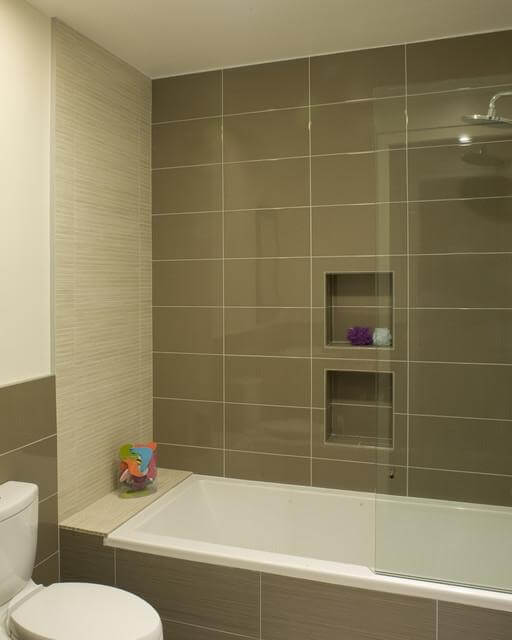 How to Visually Increase the Room with the Help of Tiles
While designers share their secrets on expanding bathroom spaces with the help of colors, light, and lines, let's incorporate their tips into tile installations. Yes, you can help your tiny bathroom look bigger by choosing the right tiles.
SIZE
Opt for larger bathroom tiles, since much interruption that goes with small tiles tend to overload space. Large-scale tile help avoid the unwanted fragmentation, the more so that it has been trending over the last few years. So, you can get a modern touch and an expanded look by incorporating 18 or even 24-inch tiles into your bathroom project, especially when tiling both walls and floor with them. Using wood look tiles, make sure to choose planks rather than strips and lay them parallel to the wall you want to look longer. However, avoid large-scale tiles with a continuous pattern through them, since the pattern won't be highly visible in a small premise and so it won't play.
GROUT
When speaking about excessive fragmentation, we need to keep in mind grout lines. This is one of the reasons for choosing larger tiles – smaller tiles come with multiple grout lines, which visually break the space into tiny pieces. Nevertheless, you can downplay the effect by a clever trick. Use grout of the same or nearly the same shade as your tiles to smooth the joints and create a seamless look. No matter how tempting and fashionable the idea of using contrast grout is, give preference to classic combinations of the same shade.
COLOR
One of the basic concepts of interior design runs that light colors add space. Indeed, they are good at reflecting both natural and artificial lighting, and they don't have the tendency to dominate over the premise, making it cramped. An all-white bathroom project seems to be an obvious choice, but beige, gray and other soft/light/neutral colors also work fine. However, you don't need to stick to one-color design, since blending a couple of soft shades will help create the required seamless and spacious look. If you think that the effect may be too dull, you are free to add some vibe with textures, small colorful accent tiles or colored accessories (just don't stuff the space with them!).
LAYOUT
Movement creates some perspective, so you can add space to your premise by applying a dynamic diagonal tiling scheme. Square tiles of larger sizes work great within the diamond pattern, but you can get even more space-expanding effect by using wood look planks, laid diagonally. While adding a warm touch and exquisite feel to your bathroom, the planks will deliver extra long lines into your premise, and we know that long and clean lines are good for extending boundaries. Yet, be careful with the diagonal pattern, if your bathroom has multiple corners, niches, doorways, and other interruptions. You won't be able to create smooth flooring all throughout your space, while a crowd of cuts will produce just the opposite effect.
SHAPE
Think of intricate tile shapes like hexagon tile or even a mix of square and rectangular pieces from the same collection. This will give your bathroom a random feel, which is less stuffy. While straight lines can work as a kind of boundaries, restricting the space, sophisticated shapes are less definite and more blurry – just what we need to make a bathroom look larger. Sure, it may require above-average tiling skills, but in the end, you will get a really crisp design, not to mention the added space.
TEXTURE
Both airy glass tiles and shining metal mosaics are great for bringing more light into space while delivering a volumizing effect. It is similar to that of mirrors and glass panels, which are recommended by interior designers for tiny rooms to double the sizes. Shiny surfaces look really chic, so you may like to use them in your bathroom project with no other reason. But since they do reflect light and radiate glitter, adding both depth and dimension to any small premise, why hesitate? But usually, it is not a good idea to tile the entire bathroom from the ceiling to the floor with glossy pieces – it looks campy. Use shiny tiles to make a statement wall or choose sparkling mosaics to decorate a backsplash or niche, thus staying within the canons of taste.
CONSISTENCY
On the other hand, who says that you need any accent walls? What about this consistent design with the walls and the floor decorated with the same tile? The bathroom with no visible transitions looks spacious, especially when the size and the color of tiles do their bit. Obviously, the seamlessness shouldn't mean monotony, and since you cannot play with color combinations, you need to focus on textures. Choose tiles with an interesting texture like mimicking natural stones and get on with your floor-to-ceiling design that can be supplemented with eye-catching accessories later.