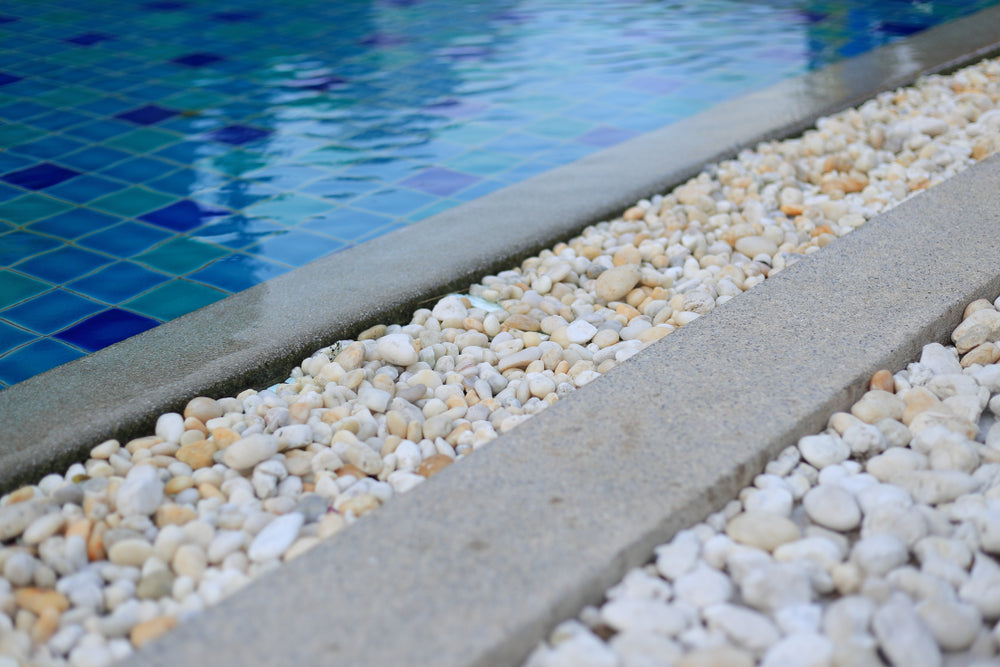 Pool Tile Trends for Your Swimming Pool in 2023
There's a healthy mix of bold and beautiful pool tile trends for 2023. The best way to follow pool design trends is to seek out daring color choices, play around with patterns and finishes, and experiment with different tile materials.
It's truly astonishing how much a glass tile or mosaic design can completely transform the look of your swimming pool. Below, we've put together a list of 10 swimming pool tile trends for 2023 to inspire you to try something completely different and help you figure out how to choose your pool tile.
10 Unique Pool Tile Trends for 2023
1. Simulated Stone
Nothing says "outdoor spa" better than this pool design trend. Porcelain tile in the appearance of chiseled stone makes a great tile for around the pool (also known as waterline tile). A porcelain tile is an excellent option for outdoor spaces as they are strong, hardy, and you can expect them to last a long time. They also mimic the look of stone (without the high price tag). Our Gentle Dwelling Porcelain Tile comes in three beautiful colors: deep blue with gold, natural beige and brown, slate gray with brown.
2. Small Glass Squares
Glass tile will make you look like you've had a pool upgrade. Light will reflect off the glass and dance beautifully around the water. These stunning small squares come in numerous colors – just take a look at how different styles can be achieved with this slick Titanium Black Iridescent Tile, or the Modena Mexico Blue Tile. Glossy glass tile is a swimming pool tile trend that can even change how the color of the water appears, which makes for a fun change.
3. Large Blue Porcelain Tile
Large blue pool tiles can enhance the look of your pool. Whether you opt for a deep Cobalt Stone Blue or a lighter Serene Sea Blue, a porcelain blue pool tile can give your pool a seriously luxurious vibe. The great thing about large tiles is that there is less space in between your pool tiles that needs to be cleaned and maintained, leaving the tile around your pool looking beautiful – with less work on your end. 
 4. Patterned Patchwork
There are few pool design trends more fun than patchwork tiles. These tiles come in turquoise – which adds to any tropical pool aesthetic – as well as patterned gray and a rich purple-blue. These glossy glass tiles are a bit more eccentric than classic solid colors, but the payoff is well worth it for those with a keen eye for design. For a unique backyard look, we'd recommend pairing the patchwork design with equally bold patterns on your patio pillows.
5. Cosmic Watercolor
For a truly ethereal pool upgrade, check out this glossy and iridescent galaxy glass tile. The mix of pastel and galaxy colors melt and swirl into each other like the aurora borealis. This creative pool pattern has a mix of blue, purple, green, yellow, and black. The unique color palette offers multiple options for your pool accessories, and creates a truly stunning look.
6. Swirling Sand
What better way to simulate a sandy getaway than having porcelain tile that mimics the look of a beach? This pool tile trend for 2023 brings the resort to you, with the classic beige look available, along with a darker taupe option. Sometimes, a classic neutral look works just as nicely as a colorful tile. If you've got a saltwater pool, this tile trend will transport you right to the ocean.
7. Smooth White Pebbles
Prefer the lake over the ocean? Our Vista Chino Pebble Tile gives your pool a natural look without hurting your feet. The smooth, matte, glass tile with beautiful white stone will add a luxurious feel and give you a major pool upgrade. The off-white pebbles match similar popular pool tile colors.
8. Sea Green Glass
Our Sea Green Glossy Glass Tile has the effect of sea glass. This isn't just any green pool tile; it's a beautiful glass tile that's reflective even before the sunlight hits it through the water. The color will give the effect of crystal clear sea green water, making your pool look like it came straight from the coast.
9. Hexagonal
Geometric shapes are a major pool tile trend in 2023. Symmetrical shapes with asymmetrical designs create movement within your pool no matter where you're looking at it from. Coming in a multitude of colors, you have great options when it comes to these pearly, iridescent tiles. Our sea green pool tile in the hexagon shape is a great option, as is the frosted neutrals palette.
10. White Fishscale
Fish scales, mermaid tail… however you view this beautifully patterned tile, there's no denying that this design is a top pool tile trend for 2023. The White Fishscale Matte Glass Tile is a unique shape, fanning out in a gentle pattern that will easily match any pool area.
Choosing Trendy Tile for 2023
We know there are a lot of beautiful colors to choose from, especially when these 2023 pool tile ideas come in multiple! Check out our guide on how to pick the right color for your pool to help you narrow down your favorite options.
Still looking for inspiration? Make your own mark by browsing through our pool tiles. No matter what your favorite color is or what kind of shape catches your eye, we've got plenty of options that will match any aesthetic.
Feeling a bit overwhelmed by the choices? Check out our
pool tile buying guide
!