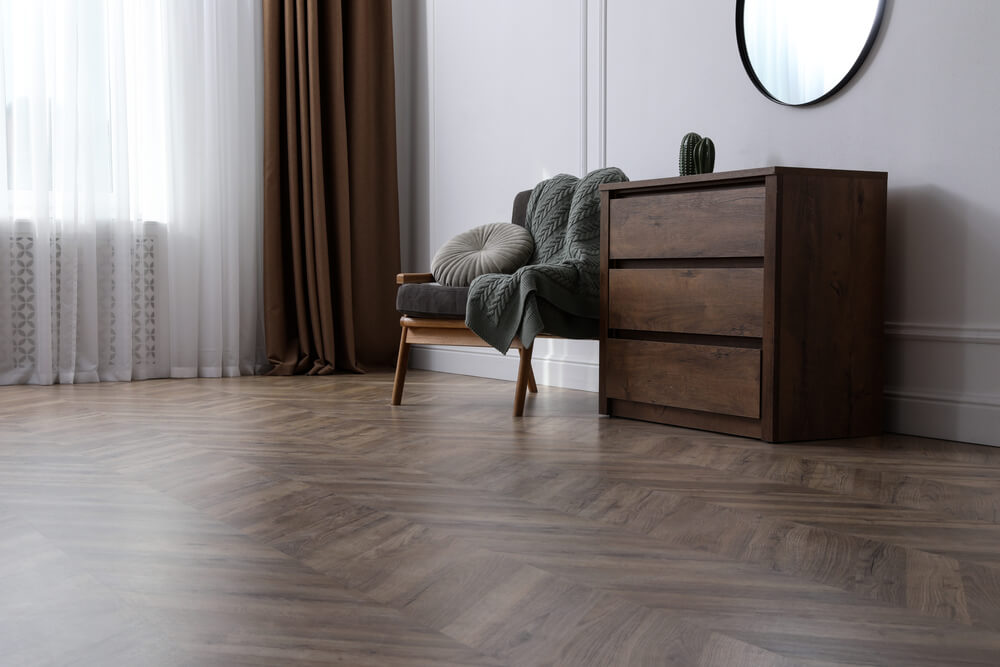 How To Lay Vinyl Tile Flooring
Today, vinyl tiles enjoy incredible popularity. Due to their remarkable durability, they are widely used to tile floors in both commercial properties fitting perfectly into the interior of public places such as airports, train stations, schools and hospitals.
However, vinyl tile flooring is equally great for renovating your house or apartment. The most popular rooms in your family such as the kitchen, living room and bathroom, will look brighter and livelier thanks to the vinyl floors.
Benefits Of Laying Your Floors With Vinyl Tiles
If you're looking to tile your floors, you should consider using vinyl tiles. Known for the many benefits they provide, vinyl floor tiles:
Look and feel of natural materials such as stone, wood, marble or granite.

Strength and durability, allowing manufacturers to issue warranties from 10 to 35 years.

Extremely weak abrasion thanks to the introduction of mineral crumb or quartz sand.

Resistance to UV irradiation which means the original color will not change at all.

Waterproof properties which make it possible to use this material for tiling spaces with high humidity, open areas or swimming pools.

Resistance to fluctuations in humidity and temperature.

High resistance to mechanical pressure: no cracks, chips, scratches or dents.

Affordable pricing.
Laying Vinyl Tile Flooring Step By Step
1. Prepare The Surface
It's no secret that any beautiful tile floor was made possible by thorough prep work. Laying vinyl tiles is no exception. The surface for the vinyl tile must be smooth, holistic and static. Remove any traces of grease, paint, wallpaper and oil. Also, fix the cracks and joints.
If you want to lay vinyl tiles over warm floors, switch off the heating at least three days before the tiling work and keep the system switched off for another six days after tiling is done.
2. Mark Up Your Space
Another important question is how to lay a vinyl tile correctly from a centering standpoint. What is the best place to start? Which direction should you take? Here's how to mark up the space:
First, find the center of the room. All measurements should be done starting with this place. 

Note that internal walls might not have strictly 90-degree angles and following wrong lines can ruin the tiling work. 

Move from the center to the walls. 
Pro tip: Experienced contractors recommend to lay out vinyl tile on the floor as it is first, without the adhesive, to determine the starting point for the installation.
3. Apply The Adhesive 
To lay the vinyl tile, you need to buy an acrylic dispersion adhesive. It should be noted that the adhesives intended for vinyl flooring have a waiting time of about 5-10 minutes. Therefore, you cannot start laying the tiles immediately but have to wait till the adhesive gets mature.
You can find all the necessary information on the packaging of the adhesive. A good rule of thumb is to carefully read the instructions before the application. Follow the recommendations of the manufacturer as this will help you ensure that your tiles will serve you for many years ahead.
4. Cut The Vinyl Tile 
Vinyl tiles can be cut with a utility knife but since the blades can quickly get out of order, it is recommended that you have a few spare ones nearby.
The process of cutting vinyl tiles is simple: first, cut the top layer of the tile. The material will break along the cut line and can be then cut from the back side.
5. Get Rid Of Bumps And Bubbles
When laying vinyl tiles, you should get rid of any bubbles. The adhesive should be applied evenly, without leaving any bumps or missing some areas.
To ensure that the adhesive is applied evenly and in the exact amount you need, it is recommended to use a notched trowel.
6. Roll The Vinyl Tile Over With A Trowel
Having laid the vinyl tile, roll it over with a finishing trowel or rub it with a cork board. This is done to make sure the tiles are properly attached as well as to remove any remaining bubbles. 
7. Remove Any Excess Adhesive
Excess adhesive that might protrude should be removed with a damp sponge or a sponge soaked in an alcohol-containing composition before the adhesive begins to dry out. In half an hour, roll over the area with a finishing trowel once more.
8. Use Cold Welding If Needed
Vinyl tiles do not require any special edge treatment. The exception is made for particularly wet rooms, in which case cold welding should be used.
How To Maintain Vinyl Tiles 
Vinyl tiles are a long-lasting and durable material, but this doesn't mean that there are not some maintenance and cleaning rules you should follow:
To prevent dirt in the room, lay mats near the entrances. They will take in some part of the garbage and the tiles will keep their brand new looks longer.

Wash vinyl tiles with detergents that have a neutral composition. 

Avoid detergents that contain bleach and ammonia. 

The best option is to go for a special solution for vinyl flooring. 

After wet cleaning, remember to wipe the vinyl tile floor with a dry cloth. 

In extreme cases, if the surface is very dirty, you might want to use a polishing machine.
Shop Vinyl Floor Tiles at Oasis Tile
There you go, that's all the helpful field advice you need on how to lay vinyl tiles in any room of your home or business!
If you're looking for affordable yet quality vinyl flooring options, you're in the right place. Our collection of vinyl floor tiles is designed to be extremely durable and easy to maintain.